Inauguration of Joseph G. Jabbra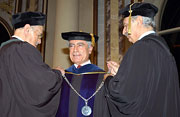 Board members Mr. Hanna Ayoub and MP Mohammad Safadi present Dr. Joseph Jabbra with presidential medallion.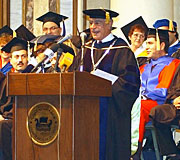 Dr. Jabbra delivering inauguration speech.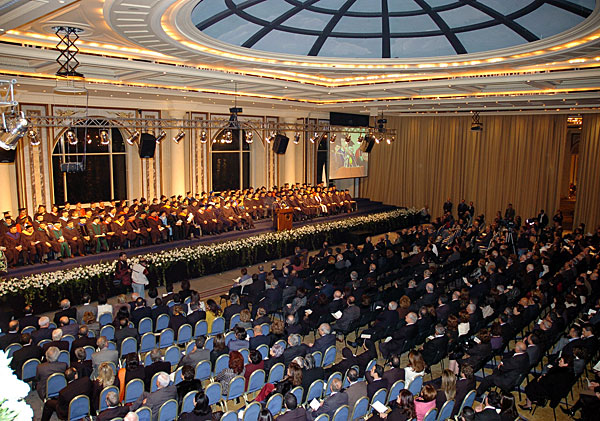 Capacity audience at presidential inauguration.

Click any image to view all three pictures.
January 25, 2005—
Joseph G. Jabbra, Ph.D., was officially inaugurated as eighth president of the Lebanese American University on January 14, 2005. Dr. Jabbra invited administrators, faculty, friends and government officials to join him in his deep committment to excellence. (Read the full speech.)
With resolve and enthusiasm, Dr. Joseph G. Jabbra told a capacity crowd at Beirut's BIEL Center he was sure LAU would obtain accreditation and placed great importance on the university's strategic plan that he hopes will propel the institution to greater heights.
He expressed confidence that LAU would add a level of American higher education accreditation to the existing Lebanese one that recognizes the university's academic programs.
Grateful that LAU had emerged from the Lebanese civil war unscathed, Dr. Jabbra said the university still needed a new sense of direction—a strategic plan—to address academic excellence, enrollment management, governance, development, finance and administration, information technology, public relations and the medical school it hopes to build.
With over 6,000 students, LAU is thriving on both its Beirut and Byblos campuses, the president said, adding that the university's finances were healthy, enrollment solid and endowment gaining strength.
"If we are to continue our successes, we must always be dynamic, always climbing toward new heights of excellence, and never satisfied with past glories," he said.
The president acknowledged the Boards of Trustees and of International Advisers, government and diplomatic VIPs at the inauguration ceremony. He addressed the audience in English and Arabic.
President Jabbra, who assumed his position in August 2004 following Dr. Riyad Nassar's 22-year administration, said his dream was to meticulously consolidate past and current gains, strengthen weak programs and only selectively and strategically add new ones.
Dr. Jabbra, who graduated with a law degree from Lebanon's Université Saint-Joseph, obtained his doctorate in political science from the Catholic University of America in Washington, D.C. He was Academic Vice President at Loyola Marymount University in Los Angeles, California, for 14 years before coming to LAU.