Incisive portraits of human suffering take literature student across the Atlantic
Zoha Abdulsater, an LAU graduate student, displayed her photos at a two-week art exhibition last month in Cleveland, Ohio.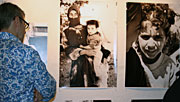 A moment of connection between two different cultures.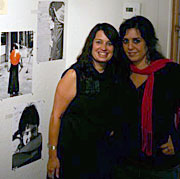 Dr. Cheryl Toman (left) with Zoha Abdulsater.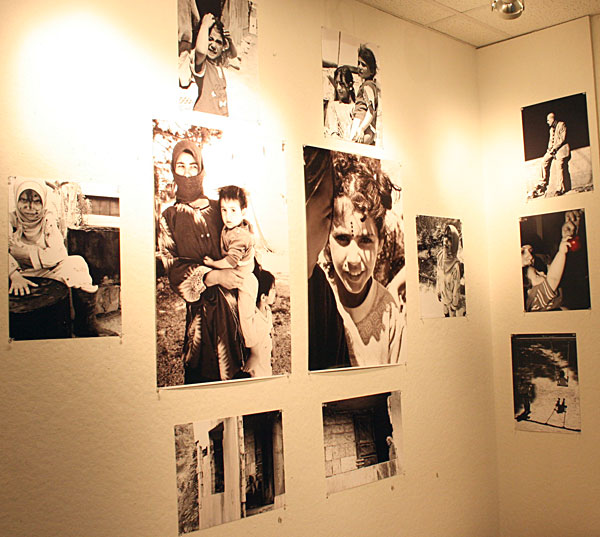 Abdulsater's corner at the exhibit.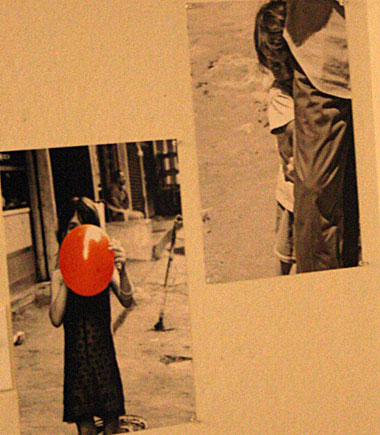 Moments otherwise forgotten have survived for American eyes to see.
Click on any photo above to view all four images
A lens, a pinch of talent, and a sprinkle of friendship is all it took Zoha Abdulsater to fly. And fly she did, not only on the Jordanian Airlines from Lebanon to the U.S., but also—and more importantly—into the reality of artistic fulfillment.
An LAU comparative literature graduate student, Abdulsater, 25, displayed some of her photographs at a two-week art exhibition organized by Case Western Reserve University last month in Cleveland, Ohio.
The event, entitled "Créer Pour Résister: Two Generations of Arab Women," featured lectures, dance performances, concerts, theater, and art exhibits, produced by two groups of Arab artists and activists ages 20-30 and 50-60.
Abdulsater was chosen to participate addressing "Women and Poverty." Coming from a disadvantaged southern suburb of Beirut, she had no trouble preparing for the project.
Abdulsater did not restrict herself to her topic, however, as she is intrigued by the human condition as a whole, especially human suffering. "This is the theme that I have been working on since I first took up photography about two years ago," she said. "What draws me most to people is their body language and their facial expressions, especially their wrinkles, that appear with age," she said.
"Hope and despair, grudges and contentment, faith and distrust, all draw maps on their faces," she added. And her photographs reflect that with bone-chilling incision.
It's hard to imagine that Abdulsater, who started by taking random pictures with her cell phone camera, has never had any formal photography training.
She focuses less on technique and more on her intuition. She does not like her subjects to pose, but instead enjoys capturing natural and fleeting—yet meaningful—moments. "My camera comes to freeze the moment and reawaken it in an artistic context," she said.
"People loved Zoha's work!" said Dr. Cheryl Toman, the artist's former teacher-turned-friend, who invited her to Case, where Toman teaches French, ethnic studies, and women's studies.
Two years ago, Toman spent a semester at LAU as a Fulbright foreign exchange professor of comparative literature, and made it her mission to bring all her Lebanese students to the U.S. to foster their artistic interests.
Abdulsater had previously exhibited her work at various Beirut events, but she was astonished when she learned that Case professors had their students analyze her pictures and relate them to courses in literature, art, art history, communications, anthropology and sociology.
"I had three classes view the exhibit and the students overwhelmingly chose themes in Zoha's work to analyze," said Toman.
Indeed, Toman thinks that her American students, who believe it is hard for them to make a difference in the world, need some encouragement in that respect. Seeing "powerful Arab women and what they can do creatively … made an impact on them," she said.
Similarly, the experience gave Abdulsater the energy to continue pursuing her passion. "I had never imagined, or even dreamed of such a thing happening," she said.
Now that she's back, what will she do next? "Try to experiment more with color," she said, for a change from her preferred black-and-white prints that mesh with the theme of suffering.