Heritage day showcases diverse cultural backgrounds of LAU students
The LAU community celebrates its diversity with unique displays of cultural identity during International Heritage Day.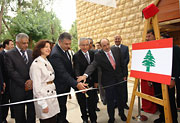 International Heritage Day kicks off with a ribbon cutting. From left: Abbass Mousaui, representative of the Prime Minister of Iraq; Salwa Saniora Baasiri, Secretary General of the Lebanese National Commission for UNESCO; Ashod Kotcharian, Armenian Ambassador to Lebanon; Dr. Joseph Jabbra, LAU President; Dr. Tarek Na'was, associate professor of biology/pharmacy.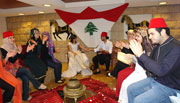 Students in traditional Lebanese garments sing and dance.

Nadia Al Huqail, president of the Hellenic Cultural Club, discusses Greek culture and food.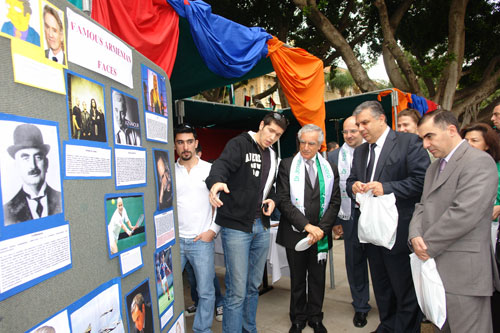 Shant Korokian, president of the Armenian Cultural Club, gives a presentation on Armenians.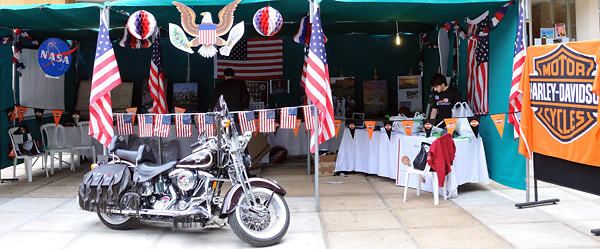 USA Cultural Club members setting up their booth before the event.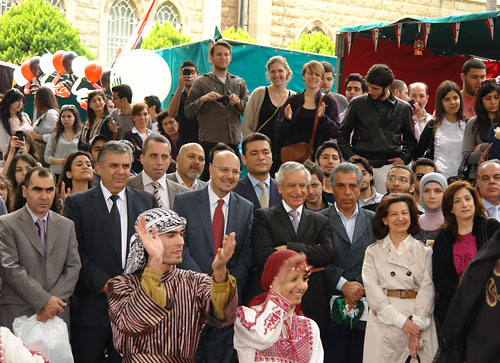 Crowds watch student performances.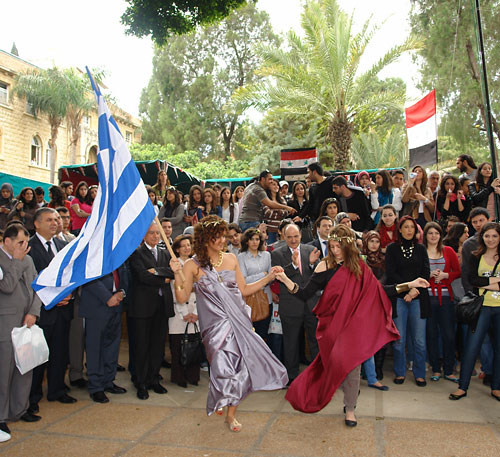 Students from the Greek Cultural Club perform a traditional dance.
Click on any photo above to view all eight images.
April 8 marked the International Heritage Day celebrations at LAU Beirut in a display of harmony among the different cultures represented on the university campus.
In front of the Safadi Fine Arts Building, each of the nine participating clubs set up a stand to promote its culture's unique customs, food, national products, distinctive attire and other aspects of its heritage.
Dr. Tarek Na'was, associate professor of biology and pharmacy, opened the ceremony, which kicked off at 11 a.m. Na'was welcomed students, staff, faculty and guests, and introduced LAU president Dr. Joseph G. Jabbra.
Jabbra gave a historical overview of International Heritage Day, noting that its roots date back to the early 1980s.
"In an international community meeting in Tunisia on April 18, 1982, one of the decisions was to set a day on which humanity would celebrate its heritage," Jabbra said.
"In 1983, UNESCO expressed concern that international heritage was vulnerable to the behavior of leaders and to the effects of war," he added. "They thus mandated that states do what they can to protect the diversity and richness of international heritage."
The president thanked the university's cultural clubs and diverse student body for contributing to the ongoing success of the annual event since the 2003-2004 academic year.
"The event has been made vibrant by their energy and commitment," he said.
The students were equally pleased with the event, saying it successfully represented their cultural identities.
"I think the Palestinian Cultural Club's stand really reflected the cultural image of the Palestinians through their presentation and folk dance," said Aya Ibrahim, a Palestinian student in her first year studying literature.
The USA Cultural Club's booth, sponsored by the U.S. Embassy in Lebanon, featured — among other things — a group from the embassy that distributed applications for exchange programs and Fulbright scholarships to student passers-by. The embassy representatives explained the experiences and benefits successful applicants could gain through these programs.
Students were also delighted by the level of cooperation between the different clubs.
"The atmosphere is friendly and supportive. The clubs even share ideas about how to improve the appearance of each others' stands," said Adnan Adam, a Greek-Cypriot student.
Program coordinator Riman Jurdak expressed pride in the students' ideas and effort.
"They continue to surprise me, honestly — I'm so happy and proud of their work," Jurdak said.
The show opened with a Lebanese folkloric dance, followed by each club performing its national dance.
The Armenian Club, Greek Group, Iraqi Group, Jordanian Cultural Club, Palestinian Cultural Club, Saudi Cultural Club, Syrian Cultural Club, UNESCO Club (presenting Lebanese culture), and USA Cultural Club participated in the event.