International Heritage Day: A celebration of life
LAU students take the Beirut campus by storm vibrantly showcasing their diverse cultural backgrounds.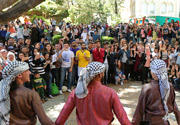 On LAU Heritage Day students pay homage to their cultural heritage through music, folklore dancing and different activities on campus.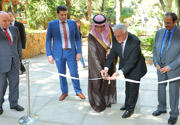 Al Bukhari and Jabbra inaugurate the event with the traditional ribbon-cutting ceremony.
Once again, LAU chose to celebrate its rich student cultural diversity on International Heritage Day held this year on April 5.
Hundreds of students, faculty, staff, guests and dignitaries gathered in front of the Safadi Fine Arts building on the university's Beirut campus to take part in the activities put on by the seven participating student groups.
Members of the Palestinian, Syrian, Armenian, Japanese, Brazilian, Saudi and UNESCO clubs worked hard to put together attractive stands that presented traditional food, cultural information, music and dance performances, and photo exhibitions. Dressed in folkloric costumes, the students invited guests to take part in entertaining games that paid homage to the country they represented.
"We are proud of our cultural diversity," said Associate Professor of Natural Sciences Tarek Na'was kicking off the event. "We have been celebrating this day for more than ten years… And this has only been possible thanks to the constant support of our President Joseph Jabbra."
Na'was spoke after a symbolic ribbon cutting ceremonial with LAU President Joseph G. Jabbra, the Chargé d'Affaires of the Saudi Embassy Acting Ambassador Walid al-Bukhari and Director of the Saudi Cultural Mission Saad El Arini. A delegation from the Embassy of Brazil joined shortly after, including Vice-Consul Samir Funchal Oliveira, Third Secretary Thiago Antonio de Melo Oliveira and Administrative Assistant Rima Anaam Saadé.
Citing anti-apartheid figures Desmond Tutu and Nelson Mandela, Jabbra said that like South Africa, Lebanon was a rainbow nation.
"It is a rainbow nation ethnically, culturally and religiously," he declared. "A rainbow that is tolerant, that respects human dignity, and within which heritage has a special place." He reminded the gathering that heritage also had a very special place at LAU particularly through its Center for Lebanese Heritage.
As photos of Japanese manga characters competed with those of illustrious Armenian figures and famous Brazilian football players, traditional Palestinian Dabkeh and chants interspersed with the unique dribbling tricks of student athletes, among other performances.
For history student and head of the Palestinian Cultural Club, Mona Bibi, the entire month spent preparing for the event was worth it. "People came to me saying 'I wish I was Palestinian' and this meant so much," said Bibi, who took part in the event for the second year in a row. "I wish more students representing more countries would take part in this beautiful day."
The celebration naturally concluded with the crowd joining hands in a traditional Lebanese Dabkeh, an instinctive statement of unity.
"Here we are brothers and sisters coming together despite our diversity, being constructive rather than destructive… Here we are today, so diverse and yet so united in serving each other," said Jabbra.