Keep the law!
LAU joins civil society groups and officials against the amendment of the newly passed Law 174 that bans smoking in public spaces.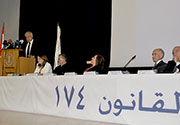 Dr. Jabbra addressing the audience.
Click on photo above for larger version.
 Civil society groups and officials came together on October 17 against calls to amend the law passed last month and that bans smoking in public spaces in Lebanon.
LAU President Dr. Joseph G. Jabbra, who participated in the event, stressed LAU's full support of the implementation of Law 174 in its entirety.
"We live in community, on the basis of social contract; where one's freedom end is where someone else's freedom begins. It is people's right to live healthy, breathe healthy, without being harmed by the smoke of others," said Jabbra, reminding attendees that both Beirut and Byblos campuses have been smoke-free for more than a year.
The gathering that took place at the call of the American University of Beirut Tobacco Control Research group and civil society partners, brought together all prominent academic institutions, government officials, MPs, representatives from the health industry, the service industry, international organizations and other interested parties.
Hosted at the Order of Physicians, the meeting comes after MPs and tourism associations called for urgent amendments to the law that took effect on September 3, and that, according to them, has already resulted in tremendous business losses.
While some contend their businesses are suffering, the health effects of smoking are clear. It is the primary cause of 3,500 deaths in Lebanon every year, Dr. Sharaf Abou Sharaf, president of the Order of Physicians, reminded participants, noting that official research shows that Lebanese smoke more than one million packs of cigarettes daily. "Eighty percent of our children are subject to passive smoking at home and 70% in public spaces," he said.
Ministry of Health Director General Dr. Walid Ammar said that the ministry would not give in to pressure. "This law is the implementation of an international agreement the ministry has signed, that was ratified by the parliament. Any amendment will only serve the tobacco companies."
Since the law went into effect, restaurants and café owners have been demonstrating across the country, and a great number of televised debates on the topic have taken place.
"To allow exemptions on the smoking ban in certain establishments is totally contrary to one primary purpose of the law, which is to ensure a safe work environment," said AUB President Dr. Peter Dorman. "Even if patrons could choose not to frequent a place where smoking is allowed, workers have no such choice. As tobacco control advocates explain succinctly: 'Smoking is a choice, breathing is not'," he added.
Dorman stressed that from New York City to Istanbul, laws banning public smoking have been implemented successfully, with no loss in revenue for businesses and with huge health benefits to all.
"This law was passed by the absolute majority of the 128 members of parliament," MP Dr. Atef Majdalani, head of the Health Parliamentary Committee, reminded his colleagues, wondering what made some change their minds.
"When governments make decisions they are bound to implement them in full," said Jabbra, adding that the government should be responsible for finding ways to compensate those who are adversely affected, and encouraging them implement the law.