Volunteer students bring fun and laughter to refugee children
LAU students take a break from exams to entertain children at a refugee camp in the Chouf.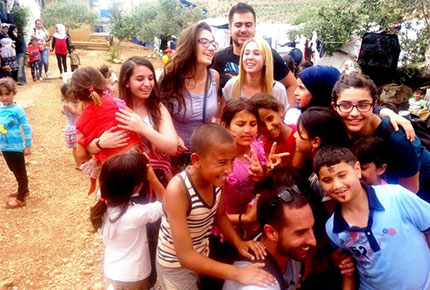 Twenty-two LAU student volunteers spent a day at the Kettermaya refugee camp last June to alleviate the suffering of its displaced residents.
"The atmosphere in the camp changed. It was filled with joy and laughter as the LAU students reached out to refugee families who have endured indescribable hardship," says Hermine Schellen. "They played games with the children, painted their faces and danced with them. The interaction between the children and students was beautiful," she adds.
Schellen is secretary general of the Lebanon chapter of Universal Peace Federation (UPF), an organization that has for many years worked on development projects in the country and, more recently, provided much needed aid to Syrian refugee families. The "festival" in Kettermaya was the latest in a number of volunteer-based activities organized by UPF in cooperation with Alan Kairouz, senior program coordinator at LAU's Office of the Dean of Students.
"I have collaborated with UPF for over ten years," says Kairouz, an active and avid supporter of volunteer-based initiatives. "During our last joint initiative, LAU students helped plant over 300 trees."
Kairouz has instigated and helped organize a number of such activities at LAU, including an annual orphan fair, during which 100 LAU students host 500 orphans on campus for a day of entertainment and gift-giving.
"Activities have been varied, including fundraising, health screenings and recycling. Students each have a variety of opportunities to give back to their community that are extremely rewarding," explains Kairouz, who recently led a group of students and staff members on a climb up Mount Kilimanjaro in a bid to raise funds for research to help the physically disabled.
In addition to strengthening society and humanitarianism, community service offers students a wealth of practical experience. "Students participate in various activities that help strengthen their skills in marketing and promotion, graphic design, negotiation …. They get to put into practice the theory they learned in class," says Kairouz, highlighting that the students themselves organize most community service activities at LAU.
Khaled Alameddine was among the students who took a lead role in organizing the festival at Kettermaya. "The conditions in the camp are far worse than we could have imagined. Though what we offered was minimal, it had a huge impact," says the medical student, emphasizing the importance of working on the ground and interacting with beneficiaries.
"My profession is all about helping people and making them feel better, so such experiences help me develop my abilities as a medic," explains Alameddine, who has also volunteered at another camp in northern Lebanon, assisting in aid distribution.
"Volunteering certainly helps our students strengthen their own skills, but essentially it is the knowledge that they are helping the less fortunate members of their community that is their major motivator," explains Dean of Students in Byblos Mars Semaan. "The spirit of giving is what ultimately drives them all."