Late LAU ceramics instructor honored at Beirut's Francophone book fair
The memory of Dorothy Salhab Kazemi, founder of LAU's ceramics workshop, was honored at BIEL with the release of a new book about her work.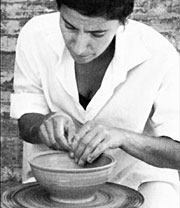 Dorothy Salhab Kazemi founded the ceramics workshop and taught at LAU for more than a decade.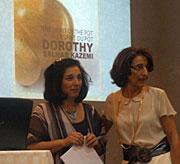 Samar Mogharbel (left), LAU ceramics instructor and former student of Kazemi, gave a speech at the book launching after being introduced by Salhab Kazemi's sister, Micheline Salhab Sawaya.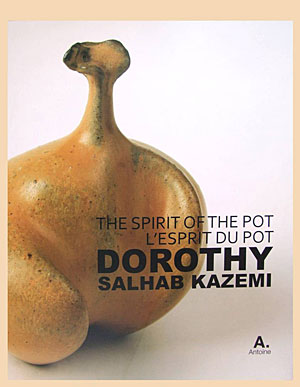 The cover of L'Esprit du Pot, a book featuring the works of former LAU ceramics instructor Dorothy Salhab Kazemi.
Click on any photo above to view all three images
Family members, friends and former students paid homage to the late Dorothy Salheb Kazemi, founder of LAU's ceramics workshop, at BIEL on October 27 during the launching of L'Esprit du Pot (The Spirit of the Pot), a new book about Salhab Kazemi's work put together by her mother.
Speeches honoring Salhab Kazemi's memory and relishing her artistic style were given by her former student Samar Mogharbel, an LAU ceramics instructor, and Sami Karkabi, an art collector, at the gathering that took place during Beirut's 16th Francophone book fair ("Salon Du Livre Francophone de Beyrouth").
"It's the creative spirit of the artist, together with her knowledge, and the respect and affection she evokes while molding clay … that give it life," Karkabi said in his speech, explaining the significance of the book's title.
According to Karkabi, L'Esprit du Pot is the first book dedicated to ceramics that has been published in Lebanon. It was published by Librairie Antoine, which organized the book launching to promote its release.
Mogharbel says she was studying computers and business at LAU during the Lebanese Civil War when she decided to take an elective course taught by Salhab Kazemi in ceramics, a subject Mogharbel knew nothing about.
One course turned into three and Mogharbel quickly discovered that her instructor had lit a fire inside her for ceramics.
"I still remember one day when I stepped foot into the ceramics workshop — it was overflowing with energy," Mogharbel says. "Without a doubt, it was this indescribable energy that emanated from [Salhab Kazemi] and that radiated throughout the workshop that made me come back."