LAU-sponsored youth academy to present performing arts show on campus
Over 200 of Lebanon's most gifted youth will perform at LAU's Irwin Hall Auditorium in a Youth Excellence on Stage Academy talent show on August 14.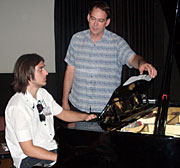 John Ferguson, executive director of American Voices Association, teaching piano at the American Community School in Beirut.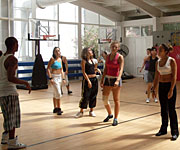 Brian Jones, the hip-hop instructor of the Youth Excellence on Stage Academy Lebanon, rehearsing the moves for the three gala shows with the teenagers in his course.

View more pictures of YES Academy Lebanon in its photo gallery.
In one of the quietest times of the year at LAU, when most people are enjoying their summer vacations, there is an unusual buzz at the Beirut campus's Irwin Hall Auditorium as scores of people prepare for a gala show. Over 200 talented students from across Lebanon will perform there on August 14 as part of the Youth Excellence on Stage Academy Lebanon.

The project has been run by the American Voices Association for the last three years in Iraq and Egypt, and is being held in Lebanon for the first time by the Levant Foundation in Houston with the support of LAU, the American Community School and the American University of Beirut.

From August 1–15, the summer academy has been gathering what a press release by the organizers describes as "the most talented young dancers, actors and musicians in Lebanon," as well as nine leading teachers from the United States, to train together at ACS, in Beirut.

"We wanted to create an American-style performing arts school and brought it to Lebanon for students who are exceptionally talented but cannot afford to go study abroad," says John Ferguson, the executive director of American Voices Association and a piano teacher in the academy.

"Out of 210 students involved in the program, 120 are on full scholarship. This is a great opportunity for them," Ferguson adds.

LAU jumped in the project from the beginning, according to Dr. Elise Salem, the university's vice president for Student Development and Enrollment Management. "As a university we need to provide outreach, to open our doors," she adds.

The professionals teaching in the summer academy come from universities and theaters such as City College of New York, St. Louis Symphony, HaviKoro Breakdancers, and Theater Under the Stars of Houston.

"It's so nice to see the kids becoming friends, coming here together and having so much fun," says Carol McCann, who is teaching theater to a group of 8–12 year-old children.

After a 40-year career as a performing arts teacher in the United States, McCann says she is impressed with some of the Lebanese children's talent. "I would take some of them directly to Broadway," she adds, laughing.

Aside from the children's theater lessons, the summer academy includes classes in hip-hop and street dance, jazz music, classical piano, voice and vocal ensemble, violin and viola, cello and bass, and Broadway musical theater.

The students will perform in three gala concerts to be held at The Panorama in Faqra on August 11, Irwin Hall Auditorium at LAU Beirut on August 14, and the Hariri Auditorium of the University of Balamand on August 15.

"This is a program that provides training in music, in theater, in all these wonderful creative arts to students from across Lebanon — some from the Palestinian camps, poor families, and schools that do not have great facilities," says Salem.

"We feel LAU has a niche in this. We are a university strong in theater — we just finished the 12th edition of the International University Theater Festival. We would like to become more known in this area," she says.

"The YES Academy is a new initiative for Lebanon. We are providing a little bit of assistance this first year. But we want to do more in the future," she adds.