LAU appointed Cisco Academy Training Center for Middle East and North Africa
LAU was appointed as Cisco Academy Training Center for the Middle East and North Africa and launched its activities with an annual conference and training sessions that drew instructors from across the region.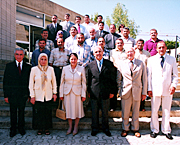 President Jabbra, VPAA Abdallah Sfeir, Acting Engineering & Architecture Dean Elie Badr and MP Hariri with Cisco Academy Training Center participants at Byblos Campus.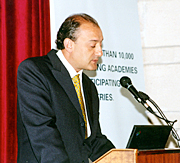 Acting Dean Badr welcomes participants to April conference.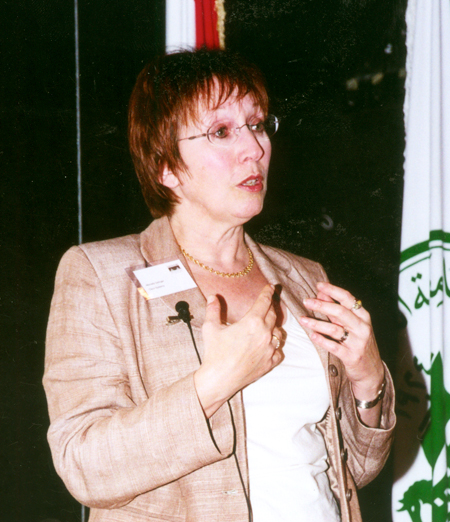 Ms. Michelle Sellenger, Cisco Academy's Director of Education for Europe, M.E. and North Africa at Cisco Networking Academies annual conference in April 2004 at LAU.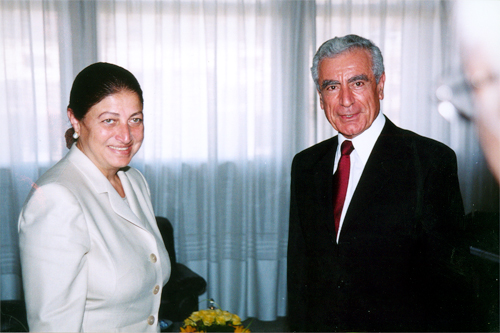 President Joseph Jabbra receiving MP Bahiya Hariri.

Click any image to view all four pictures.
LAU was appointed as Cisco Academy Training Center for the Middle East and North Africa and launched its activities with an annual conference and training sessions that drew instructors from across the region.
Cisco Systems, a network hardware company, operates academies at three levels—local, teaching college students; regional, dealing with equipment inventory, curricula and instructor training; and, "academy training centers" that train the trainers of regional academies.
As of January 2004 LAU functions at all three levels. As a CATC, it has administrative, legal, instructional and support responsibilities in the region and reports back to Cisco Systems in Belgium. The area covered includes Morocco, Algeria, Tunisia, Egypt, Jordan, Lebanon, Iraq, Palestine, Kuwait, Saudi Arabia, Oman, Qatar, United Arab Emirates, Bahrain, Yemen and Afghanistan.
LAU also offers courses to university students, allowing them to become Cisco Certified Network Associates and Cisco Certified Network Programmers.
"The courses bridge the gap between theory and practice for engineers and technical people," said LAU's Acting Dean of Engineering & Architecture, Dr. Elie Badr. "Training time on the job is cut by a large factor."
"We can also target senior high school students as well as technical institutes' staffs and students," asserted Dr. Badr.
Some of the universities, institutes and colleges that have sent instructors to be trained at CATC-LAU are Saudi Arabia's King Fahd Petroleum University, King Abdel Aziz University, Effat College for Women, Mouhammadia College for Engineers in Morocco, College of Telecommunications in Algeria, General Telecommunication Institute in Pakistan, Cairo University, several Iraqi universities as well as institutions in Lebanon.
The UN Economic and Social Commission for Western Asia requested that 13 Iraqi delegates to a course in August 2004 be housed on campus while others stayed at nearby hotels.
Sponsors for that activity included UN agencies, the International Telecommunications Union and U.S. Agency for International Development. Lebanese MP Bahiya Hariri, chair of Parliament's Education Committee, and Mr. Abdulilah Dewachi, regional adviser of communications and computer networking at ESCWA visited LAU, toured the facilities and met with President Joseph Jabbra and faculty members involved in the project.
Starting October 2004, LAU's Cisco Institute director is Dr. Iyad Ouaiss from the university's computer engineering faculty. According to Dr. Badr, the dedicated work of staffers Bassam Moujabber, Wadih Zaatar, and Joseph Khalifeh has been crucial to the academy's expansion. Cisco training was previously offered under the Software Institute.
"During the dot-com boom, Cisco Systems wanted to give back to the economy and the community," explained Dr. Badr about its inception. "It created the Cisco Learning Institute, an agency to fund academies around the world whose task was to train instructors and students on how to network computers."
CATC is responsible for training two instructors pro bono from each regional academy; others pay their way. Typically, courses are 4-5 days grouping 16 in each class. Some courses offered are bridges between different versions of computer software.
Earlier, the Middle East and North Africa Cisco Networking Academies held their annual conference at LAU. The April 2004 conference "Educating Tomorrow's Networking Professionals" was hosted by the Byblos campus and drew regional academy representatives and officials from Cisco Systems.
Press clippings about the CATC announcement are available on this website.