LAU board members earn top honors in the United States
Dr. Paul F. Boulos and Peter Tanous receive recognition for their achievements.
Two esteemed members of LAU's Board of Trustees, Peter Tanous and Dr. Paul F. Boulos, have earned honor and recognition for their respective professional achievements in the United States.
Supporting successes of Lebanese Americans: Peter Tanous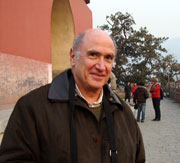 Peter Tanous, LAU Board of Trustees member, has received the "Arab American of the Year Award" by the Arab Community Center for Economic and Social Services in the United States.
President and chief executive of Washington, D.C.-based Lynx Investment Advisory, LLC, Tanous is being presented with the "Arab American of the Year Award" by the Arab Community Center for Economic and Social Services (ACCESS), a non-profit agency in the United States, that is committed to advocating for and empowering individuals, families and communities.
Tanous is one of two Arab Americans being presented with the honor; the other is Nobel Prize winner Ahmed Zewail. The two will receive the award at a dinner being held in their honor on May 1, at the Marriott hotel at the Renaissance Center in Detroit, Michigan.
For many years, Tanous has been a respected business and investment guru, and is the founding chairman of the American Task Force for Lebanon, an organization designed to promote Lebanese-American relations through the active engagement of prominent Lebanese Americans across the United States. In 1983, he was appointed by the Secretary of the Treasury to the Business Dialog of the U.S.-Saudi Arabian Joint Economic Commission.
Tanous says what inspired him to spearhead the establishment of ATFL was simply the fact that the "majority" of Arab Americans are Lebanese Americans. He says ATFL "comprises those families who have been in the U.S. for generations," and explains when he founded it over 20 years ago, along with some other founders, they did so "as part of the then larger National Association of Arab Americans."
"Many prominent Lebanese Americans with prestigious backgrounds as Americans were delighted to join an organization that focused exclusively on their Lebanese heritage," says Tanous. "ATFL is well-known among Lebanese Americans as the premier organization in Washington focusing on Lebanese-American relations and heightening the awareness of Lebanon at the White House and on Capitol Hill as well as through constant dialogue with the State Department."
Tanous explains that ATFL's hallmark policy is that it is strictly "non-sectarian and comprises members of all faiths and political views." He adds, "We are Americans and we do not get involved in internal Lebanese politics. We advocate for a Lebanon that is multi-confessional, independent, united, and free of all non-Lebanese forces or influences."
While professionally Tanous serves as president of Lynx, his role as ATFL president is what he describes as "a part-time, volunteer activity," and adds that his role as a member of LAU's Board of Trustees "is an extension of [his] affection and loyalty to the land of [his] parents and grandparents."
He adds, "LAU is the 'hot' school in the region. Its visibility has grown enormously and is a reflection of its growing stature in education."

For excellence in engineering: Dr. Paul F. Boulos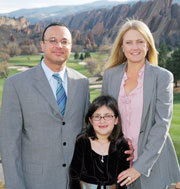 Dr. Paul F. Boulos (here with his family), another LAU trustee, has been selected for induction into the University of Kentucky College of Engineering Hall of Distinction for 2010.

Dr. Boulos, president and chief operating officer of MWH Soft, a leading global innovator of wet infrastructure modeling and simulation software and technologies, has been selected for induction into the University of Kentucky College of Engineering Hall of Distinction for 2010, for his "distinguished service to the profession, outstanding character, and commitment to community service," as noted by Dr. Thomas W. Lester, dean of the College of Engineering.
The Hall of Distinction was established in 1991 to recognize alumni whose distinguished careers have brought honor to the university and the college.
Induction is the most prestigious honor given by the university to its alumni. Boulos, who is one of the world's foremost experts on water resources engineering and a leading global authority on drinking water distribution engineering, from hydraulics to water quality principles, will receive the award at a ceremony and dinner on April 23, at the University of Kentucky campus in Lexington.
He received Ph.D., Master of Science and Bachelor of Science degrees, all in civil engineering, from the University of Kentucky, and a B.S. in General Science from LAU. He also completed the Advanced Management Program at Harvard Business School.
Boulos has co-authored nine books and worked in more than 100 scientific publications. He has been widely acclaimed for his practical and scientific expertise and his extensive experience in both the academic and the corporate worlds. In 2008, he became the youngest person — and one of only 16 worldwide — to be awarded Honorary Diplomate status (Hon.D.WRE) by the American Academy of Water Resources Engineers.
The designation, the academy's highest honor, acknowledges eminence in the field of water resources engineering. Among an impressive slew of honors and recognitions, in 2009, Boulos received one of America's most prestigious awards, the Ellis Island Medal of Honor, for his outstanding contributions to communities both in the United States and internationally.
Boulos says that "unquestionably, founding MWH Soft, and building and leading its incredible team" are some of his key achievements in his field.
He adds: "We are proud to play a part in this vital work, and we serve and support our customers with incredible passion and infinite care. In just 13 years, MWH Soft has become the world's leading provider of wet infrastructure modeling and simulation technology, and the most recognized and respected brand in the industry."
"We've redefined the state of the art in our industry, advanced the water/wastewater engineering field, and played a part in building a better world and improving the lives of the communities we serve."
This latest recognition is of great personal significance to Boulos. "I was incredibly fortunate to be a part of the University of Kentucky at a pivotal time in my professional history," he says. "My experiences there, both as a student and an educator, gave me a tremendous foundation on which to build my future. I had the privilege of collaborating with many water-industry giants, from private industries to research and government organizations."
Boulos adds that as an LAU alumnus he has personal experience of how the "university shapes lives and creates leaders." He adds, "My involvement with the university [LAU] has reinforced my belief in the power of higher education. … The university is a vital part of the region's future, intellectually, socially, culturally and economically. It is an agent of hope and opportunity for all its students, because it belongs to them."