LAU BOT gets new chair
Renowned water engineer Dr. Paul F. Boulos elected chair of LAU Board of Trustees.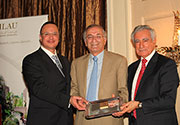 Dr. Charles Elachi (middle) receives a plaque from Dr. Joseph Jabbra (right) and Dr. Paul Boulos (left).
Click on photo above for larger version.
Dr. Paul F. Boulos, president and chief operating officer of Innovyze, a leading global innovator of wet infrastructure modeling and simulation software and technologies, has been elected chairman of the Board of Trustees of LAU.
Boulos succeeds Dr. Charles Elachi, director of NASA's Jet Propulsion Laboratory (JPL) and vice president of the California Institute of Technology, who has served as chair since 2009.
Boulos has held key leadership roles as a member of the LAU BOT since 2009, including serving on the executive, audit, and nominating committees, and chairing the advancement committee. He also served as chair of the LAU Board of International Advisors from 2006 to 2009.

A renowned international authority on water resources and navigation engineering, Boulos has co-authored nine authoritative books and more than 200 technical articles on issues critical to the water and wastewater industry. He is the recipient of numerous honors from national and international scientific and engineering societies, governments, universities, and NGOs. Among these acknowledgements are notable technical awards from the American Society of Civil Engineers, the American Water Works Association and the U.S. Environmental Protection Agency.
Boulos received his Bachelor of Science, Master of Science and doctorate degrees in civil engineering from the University of Kentucky, as well as a bachelor's degree in general science from the Lebanese American University. He has also completed Harvard Business School's Advanced Management Program.
During a celebration held by LAU in New York, University President Dr. Joseph G. Jabbra hailed the appointment of Boulos as historic. "This is the first time in the history of LAU that the chairman of the Board of Trustees is an alumnus of our beloved institution," he said. "Dr. Boulos is passionately committed to the well-being of his alma mater and to its continued success. He also brings to this position a bundle of energy and a great deal of knowledge and experience. Under his dynamic leadership, his alma mater will continue its meteoric rise."


Jabbra also paid tribute to Dr. Elachi who admitted he did not know much about LAU when he first left his hometown in the Bekaa to pursue higher education in France and the United States. "I accepted to become chair of LAU's Board of Trustees because I felt it was a duty to pay back what Lebanon had given me," he added.
"It is an honor to follow Dr. Charles Elachi, who has done a phenomenal job of supporting the forward movement of the University as chair," said Boulos.
"I received an excellent education at LAU, one that I continue to draw on each and every day. I can leave no better legacy than to work diligently to ensure that the LAU we pass on to future generations is even better than the one that so profoundly affected our lives," he continued.
LAU BOT consists of 25 members, most of them American, and is responsible for ensuring that the university furthers its mission organizationally, administratively, educationally, spiritually, socially, and financially. It also assures that LAU has adequate facilities and sets the policy framework for the university's administration.



A full version of this article was originally published by Innovyze.com on October 2, 2012 (click to view) and is here posted with additional reporting by LAU staff.