LAU Byblos continues to reign over Uni-League championship
The university's basketball team brings back the University League championship title for the fifth time in a row.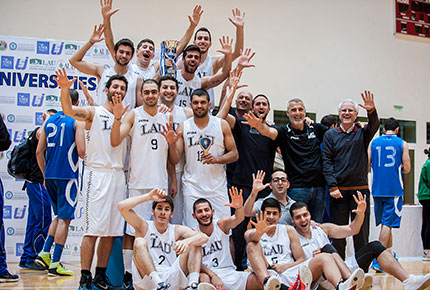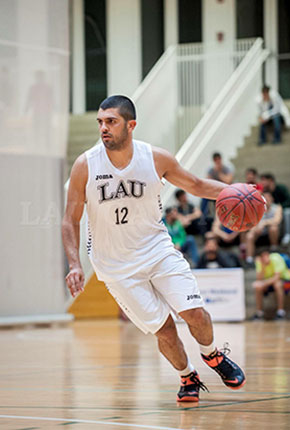 LAU Byblos recently defeated Université Saint Esprit de Kaslik (USEK) to win the Lebanese University League Championship in a thrilling and decisive basketball title contest. The basketball team's victory, which came after an incredibly close 74-70 game at the American University of Beirut on April 26, brought LAU the championship title for the fifth time in a row, a historic achievement.
Nine universities in the University Sports Conference League, including semi-finalist Université Saint Joseph (USJ), heatedly dribbled and dunked it out against each other during the tournament. According to Joe Moujaes, director of Athletics at the Byblos campus, the win against USJ (88-72) — followed by the success in the grueling back and forth final against USEK — is vivid proof of LAU's successful basketball program. Moujaes, who gave his team an advantage by calling for a time out toward the end of the match, said the great achievement is a result of the intense workouts the players undergo, especially during the summer time. The workouts give the team the competitive edge necessary to consistently perform at their best. Moujaes also underlined the importance of the captains' sense of unity. "We believe in each other and together we will prevail," he said.
Team captain Johnny Nemr noted that many team members showed their prowess on the court at different times throughout the tournament. "My job is to always motivate the players I see feeling a bit down or frustrated," he said. "We always stand next to each other, no matter what! That's why we have an amazing team spirit. This team feels more like a family."
Teammate Karam Mechref also emphasized the importance of team attitude in leading the LAU athletes to yet another championship. "The way we fight on the court to win every match and the friendship between us, that is definitely the key to our success," he said. Undoubtedly, one of the highlights for Mechref, who scored 24 points in the final, was earning the Most Valuable Player title.
During the tournament, each team played twice against all the other teams, home and away. Subsequently, the top four teams went on to play the concluding games. Although they have scored five consecutive wins in this championship, the LAU Byblos players celebrated the April 26 win as if it was their first. And with Moujaes enthusing that "winning titles is contagious, we won't accept otherwise," it seems it won't be the last.