LAU celebrates 150th anniversary of Darwin's On the Origin of Species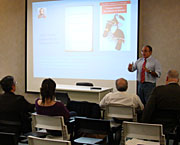 Dr. Ramez Maluf, chair of LAU's Communication Arts Department and event organizer, gives background information on Charles Darwin and the reactions to his evolution theory.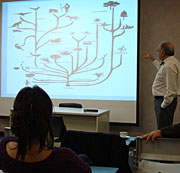 Dr. Kamal Badr, founding dean of LAU's medical school, explains Darwin's theory from a medical perspective.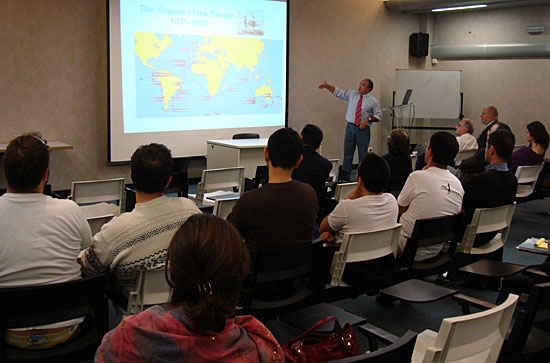 Maluf points to a slide showing Darwin's five-year global expedition which inspired his theory.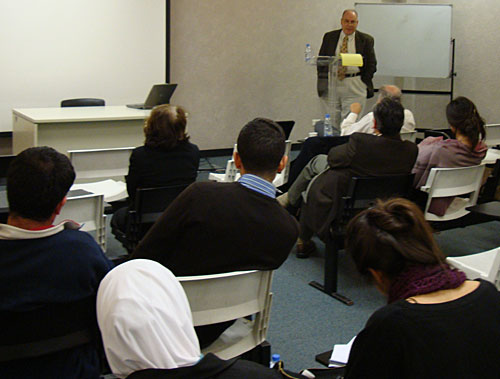 Dr. Habib Malik, LAU associate professor of history, makes an argument that faith and Darwin's theory may be compatible.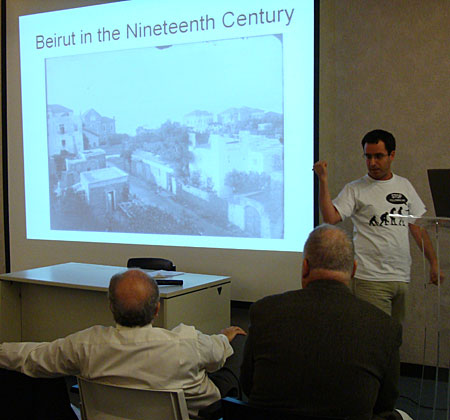 Mohammed Al Zein, natural sciences instructor, lectures about the reception of Darwin's theory in 19th-century Beirut.
Click on any photo above to view all five images
November 30, 2009—
Exactly 150 years after the publication of Charles Darwin's groundbreaking book On the Origin of Species, LAU Beirut hosted a three-hour discussion on November 24 to examine his evolution theory and its social, religious and philosophical implications.
Published on November 24, 1859, On the Origin of Species presents the theory that species slowly evolve over hundreds of thousands of years through a process of natural selection. The theory was quickly adopted by the scientific community but was presented at odds with the dominant religious concept of creationism.
"I don't know of any other book in the history of science that has had such an impact on the way we look at ourselves," said Dr. Ramez Maluf, chair of LAU's Communication Arts Department, who organized the event.
The discussion included presentations by Dr. Kamal Badr, the founding dean of LAU's Gilbert and Rose-Marie Chagoury School of Medicine, as well as Dr. Habib Malik, LAU associate professor of history, and Mohammed Al Zein, instructor of natural sciences.
Badr presented an overview of evolution, describing it as an "excellent tool" that has helped scientists in the medical field discover biological facts, but noted that on a philosophical level, the theory may pose more questions than answers.
"Evolution is really a story of how we came about — it tells us a lot about how our species arrived to where it is," Badr said. "Its limit however … is that by learning how we came about, we do not have any clear idea of why."
While emphasizing his firm religious beliefs, Malik presented a 30-minute speech to argue that evolution and faith are not incompatible despite widespread notion to the contrary.
He blamed "progressive secular liberals" on one side, and "traditional religious conservatives of the marginal variety" on the other, for creating and propagating the idea that faith and evolution clash.
"This entire debate for the vast majority of Christian believers is much ado about nothing," Malik said. "Darwin did nothing less than uncover how life develops over time — what a marvelous and colossal achievement."
Al Zein's presentation focused on the influence of Darwin's theory in 19th-century Beirut. He recanted the story of the "Lewis Affair" in 1882 at the American University in Beirut, then known as the Syrian Protestant College, involving Ray Lewis, a popular American professor of chemistry and geology at the school.
During a graduation speech Lewis was asked to give at the university that year, he identified Darwin as being among four "ideal men of science," which caused an uproar among faculty who scoffed at the very mention of Darwin, bringing Lewis to resign over his statement.
"This generated the first student revolution in the Arab world," Al Zein said, describing student support for the professor. "They went on strike and decided not to go back to class until Lewis came back."