LAU chemistry professor wins award to study hybrid cars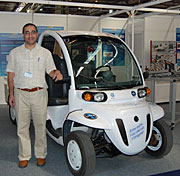 Dr. Ahmad Houri, LAU associate professor of chemistry and Euro Arab chair for renewable energies, next to a hydrogen car during a conference in Saragossa, Spain.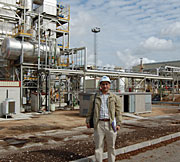 Houri visits a biomass facility in Puente Genil that uses waste olive residue to generate electricity.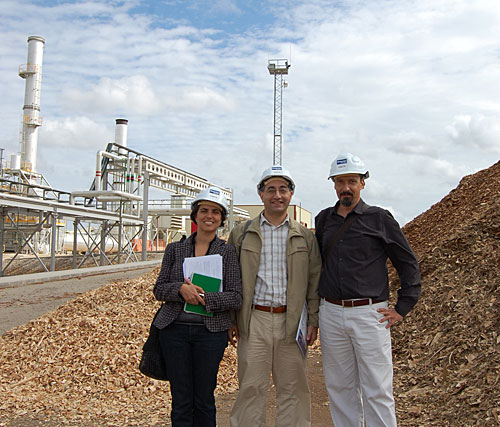 Houri with two guides during his tour of the biomass power plant in Puente Genil.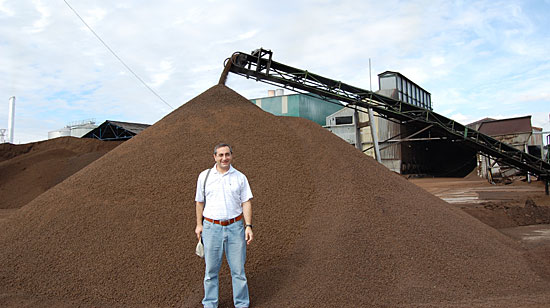 Houri visits a combined heat and power plant (CHP) that uses the produced heat and some of the electric power in the olive oil extraction process to produce fuel in the form of pellets.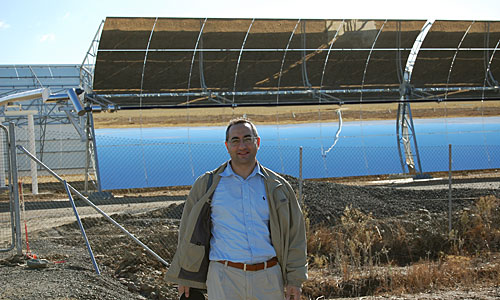 Houri in front of one of the most advanced solar platforms in the world in Seville, Spain.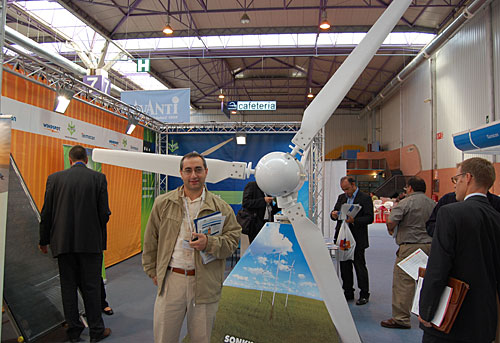 At a conference on wind energy in Spain.
Click on any photo above to view all six images
November 19, 2009—
Dr. Ahmad Houri, LAU associate professor of chemistry, is currently conducting a three-month study in Granada, Spain, to examine the environmental and economic impacts of the introduction of hybrid cars in the Mediterranean region.
The project is fully funded by the Granada-based Euro Arab Foundation for Higher Studies, which publicly announced in July that Houri had been selected among over 46 applicants from eight countries to be the Euro Arab chair for renewable energies based on the study proposal he had submitted to the foundation.
"All of my work and research has had a common underlying theme which is the protection of nature," says Houri who began his study in Spain on September 7. "Promotion of natural reserves, wild flowers, environmental education and renewable energy follow the same general idea of protection of our local environment in Lebanon and the global environment," he adds.
Specifically, Houri's study will examine the amount of greenhouse gas emissions that could be potentially prevented with the promotion of energy-efficient hybrid vehicles. He is also working on a policy paper to recommend a level of support that should be given to these cars that makes financial sense.
"It is my strong belief that people will be more interested in taking care of nature if they believe they are the stakeholders," Houri says. "For any measure to succeed, it must be a win-win situation," he adds. In this case, "people save money and the environment at the same time."
As part of his study, Houri has been interacting with relevant professors, companies and institutions in Spain to build networks and create potential opportunities to collaborate on the research.
Houri has also made trips, including visits to one of the most advanced solar platforms in the world being constructed in Seville and a biomass power plant in Puente Genil (Cordoba) that uses waste olive residue to generate electricity.
Toward the end of his stay in Spain, Houri says he will be holding a workshop with speakers from Spain and Lebanon to reveal the importance of collaboration across the Mediterranean region with regard to renewable energy, and to present the results of his research.
Houri's study in Spain is just one in a long list of notable achievements.
In 2004, Houri was awarded a scholarship to participate in seminars in the United Kingdom on renewable energy policy. In 2003, he traveled to Colorado on a grant to attend a symposium on wind energy applications. That same year, he was awarded a scholarship to attend the International Solar Energy Society's World Congress in Sweden, as well as a separate grant to participate in a renewable energy conference in Germany.
Those awards are in addition to the over 30 presentations and conferences worldwide where he has been invited over the years to speak on renewable energy.
And for over 10 years, Houri and his wife, Nisrine Machaka Houri, have been carefully documenting and photographing hundreds of Lebanese wildflowers. Their work has been summarized in a two-volume book, Photographic Guide to Wild Flowers of Lebanon, and a searchable online database. The first volume, published in 2001, features 240 of the country's wildflowers, while the second volume, published in 2008, presents an additional 400 flowers.
Referring to his latest project, Houri says, "This has been an intense scientific and cultural experience for me that I plan to bring back to LAU." He adds: "My teaching will be based on actual first-hand experience that should provide for a more effective classroom interaction."