LAU conference puts Islamic banking on front burner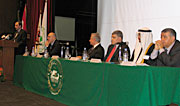 Minister Sami Haddad (speaking), Mr. Michel Majdalani, Dr. Joseph Jabbra, Dr. Ahmad Jachi, Mr. Mohammad Moutawaa and Dr. Tarek Mikdashi.

March 9, 2006—
Islamic banking has taken hold in the Arab world, with Lebanon promoting the benefits of bridging the economic divide through actual practice, academic courses and events drawing attention to this industry's potential.
LAU joined the bandwagon by hosting the Second Annual Banking & Finance International Conference in February 2006.
"The development of Islamic financial institutions depends on the success of their integration in the global financial market," said keynote speaker Dr. Ahmad Jachi, First Vice Governor at the Bank of Lebanon (Central Bank).
Economy and Trade Minister Sami Haddad praised LAU for hosting the conference saying Islamic finance had grown considerably in many parts of the world and was expected to mark further growth in Lebanon.
LAU President Joseph G. Jabbra said in opening remarks that the concept of Islamic banking promoted the principles of justice and equality.
"It did not start from a concern for loans and interests, but rather aims at bridging the gap between rich and poor and between rich nations and poor nations for the development of societies," he said.
The event held at the Beirut campus under the patronage of Lebanese Prime Minister Fouad Seniora featured 21 international speakers and was sponsored by Al Baraka Banking Group, Al Amin Bank, and BOL's participation.
Dr. Tarek Mikdashi, dean of the School of Business at the Beirut campus, said LAU had introduced courses in Islamic banking at the MBA level.
"The increasing international interest in the subject of Islamic banks comes as a result of expanding globalization that involves all in addition to new developments on the geo-political scene and the infant Islamic trade markets," he explained.
Three Islamic banks currently operate in Lebanon: Al Baraka Bank Lebanon, Arab Finance House and the Lebanese Islamic Bank.
"The relatively young Islamic financial market has developed at a fast pace during the past five years," said conference chair Michel Majdalani, but noted a shortage of Islamic financial products vis-a-vis overall growing transactions.
Al Amin Bank's Acting CEO, Mohammad Al Moutawaa, listed problems the Islamic financial market was facing and pointed to a need to introduce new financial tools and improve liquidity management in Islamic banks.
BOL's Jachi highlighted the need for product innovation as well as the development of an Islamic money market, a regulatory and supervisory framework, corporate governance, standardized financial reporting and transparency.
He cited conditions for setting up Islamic banks in Lebanon, namely ownership, capital management and the proper application of Shariah (Islamic law).
Speakers also drew on their respective countries' experiences and case studies in suggesting guidelines to govern the Islamic banking sector. They said the sector needed to adopt universal standards in the management of Shariah-compliant banking practices.