LAU conserves water
As the global water crisis hits Lebanon, LAU does its part to conserve water and urges the LAU community to do the same.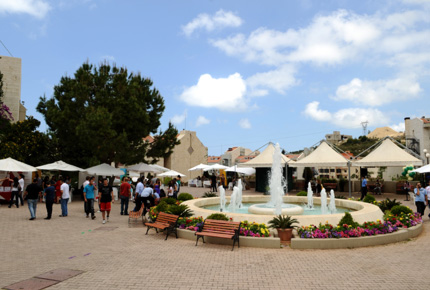 Like many countries in the world, Lebanon is currently in the midst of a cumulative water crisis. One solution to this problem is water conservation. However, the structure of Lebanon's water delivery system is such that conservation is particularly difficult.
Director of the Physical Plant at LAU Byblos, Ziad Haddad, explains. "Normally, utility water should be metered, but that's not the case in Lebanon. Here, people receive water at a fixed price, regardless of how much they consume and that by itself is a problem, because it doesn't allow people to be sensitive to the amount of water they use."
Lebanon suffers from a lack of dams and proper water infrastructure, as well as a lack of maintenance at the existing water facilities. This year has been especially hard on the country. The lack of rainfall was felt this summer through chronic water shortages all over Lebanon. Many citizens have turned to buying their water from private cisterns, causing a new set of difficulties. "That water is not controlled and we hear about people going to hospitals because of the bacteria found in these unregulated water supplies," says Haddad. "And that's not to speak of the pollution that these private water trucks cause, since they don't use the appropriate type of fuel and they add to traffic congestion. It's a huge problem."
LAU is doing its part to raise awareness about the issue. Water supplies were so scarce this summer that the university's facilities management decided to act. As a result the Operations Departments sent out an email to all faculty, staff and students calling them to use water responsibly: "You are called to treat this issue with the sense of environmental responsibility LAU is committed to," the email says, "especially that we are partnering with the nationwide campaign on water conservation. We are all aware of the critical water shortage issue that we are currently experiencing in the country and of the urgency to engage in conserving water for future generations. It is time to act."
A plan for efficient water use across LAU is in the works. Three courses of action are being considered simultaneously. The first involves raising awareness through easy water saving tips to be followed by all personnel on campus. The second addresses facilities and is related to technical operations and systems in use — smart irrigation systems that are weather sensitive, drip irrigation, the use of water saving fixtures and more conservative water use for cleaning are already being implemented. The third course includes sensitizing the LAU community as a whole about water conservation habits and culture both on campus and at home.
Bringing words into action, LAU is already using the purified water of its Byblos campus' wastewater treatment plants for irrigation, while the Library and Central Administration project, which is in its final design stages, is following the Leadership in Energy and Environmental Design (LEED Gold) green building rating system. The project includes environmentally-friendly features such as harvesting rainwater and re-using it for toilet flushing and collecting the condensation from air conditioners.
For now, Haddad has shared some water conservation suggestions that the LAU community can put into practice to help. Namely:
Water conservation starts with a change in thinking. Water is a very valuable resource. When you think about it that way, you will start to devise tips on your own.
Report to Operations, via phone call or email, about any water leaks you see on campus so that they can attend to it immediately.
Dorm students limit your showers to five minutes. When shaving or brushing your teeth, don't leave the faucet flowing.
Don't run dishwashers or washing machines unless they have a full load.