LAU engineering students take top 3 places at design contest
The student teams built waste material sorters at this year's District J American Society of Mechanical Engineers (ASME) Student Design Competition.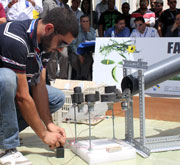 LAU engineering student Karim Mrad preparing his team's waste sorter for the winning run at the District J American Society of Mechanical Engineers (ASME) Student Design Competition, held at the Notre Dame University on May 7.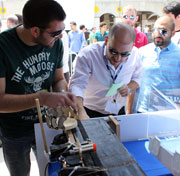 Organizer Dr. Najib Metni (2nd from left), a faculty member in NDU's Mechanical Engineering Department, inspecting a device built by LAU students for compliance (maximum dimensions, power regulations and weight measurement).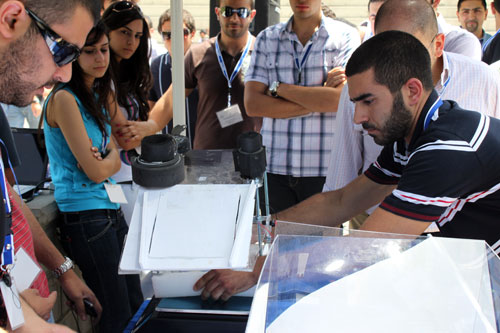 Mrad (right), a member of the winning team, places the waste sorter his team designed for compliance check.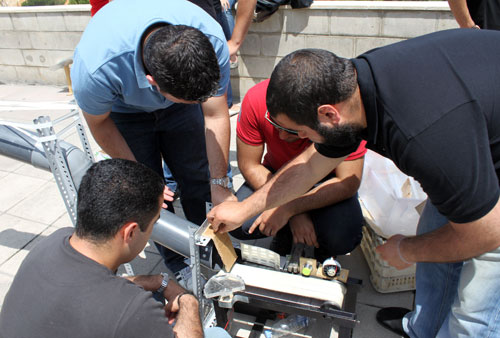 LAU students prepare their device for testing.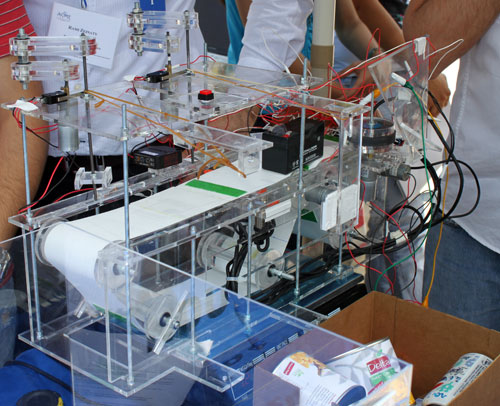 One of the waste sorters designed and built by LAU engineering students.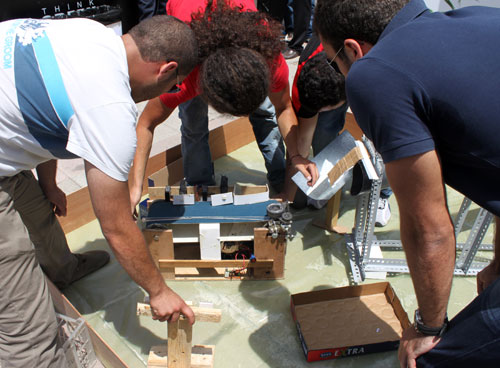 LAU students prepare their device, tuning it for a run.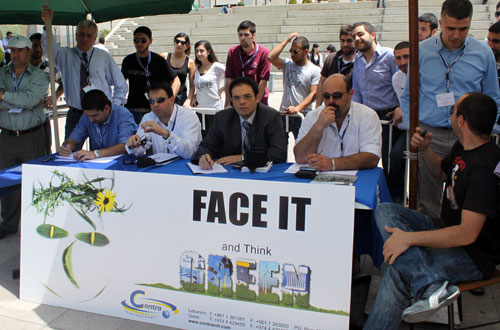 The panel of judges at the student design competition.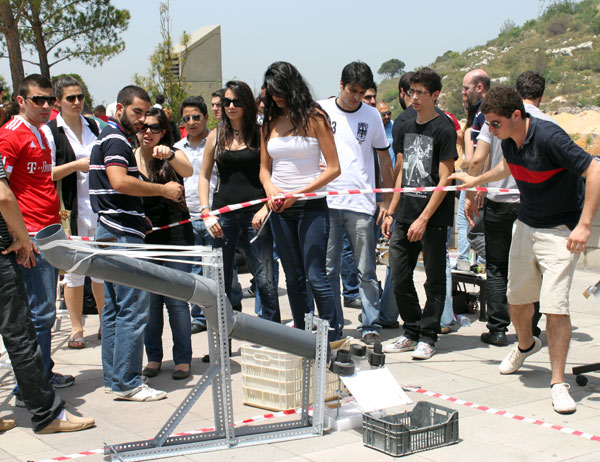 LAU students gather around the winning waste sorter.
Click on any photo above to view all eight images.
Three teams of a total of 12 LAU mechanical and industrial engineering students have won this year's District J American Society of Mechanical Engineers (ASME) Student Design Competition, landing in first, second and third places, at the event held on May 7 at Notre Dame University's campus in Zouk Mosbeh.
The winning team will represent the Middle East and North Africa in the finals in Vancouver, Canada, later this year.
Other participating universities included AUB and NDU. From LAU, the Department of Industrial and Mechanical Engineering participated with five teams and won all three top positions.
Dr. Pierrette Zouein, the chair of the department, has been actively working to encourage interdisciplinary projects at the School of Engineering. She says: "This [achievement] really reflects the commitment of the faculty in the Mechanical Engineering (MEE) and Industrial Engineering (INE) programs to students and teaching, and to promoting this culture of interdisciplinary learning which we intend to reinforce."
This year's competition challenge was the "Earth Saver: Autonomous Material Sorter," where students had to design, build and test an autonomous machine that sorts plastic, glass, tin-coated steel, and aluminum containers into distinct waste containers.
According to the website of the contest, new, efficient and cost‐effective waste material sorters are increasingly needed as there is a global expansion of the recycling industry. "Recycling is a global industry accounting for more than 1.5 million jobs and $100 billion in annual revenue. As a whole, the industry currently processes more than 600 million metric tons of material annually, growing with the expansion of the global, green economy."
The project was adopted as an optional interdisciplinary class assignment in five 300- and 400-level courses offered by the Industrial and Mechanical Engineering Department.
Faculty members Dr. Barbar Akle and Dr. Ramy Harik supervised the teams, preparing them for the scholarly competition.
"This year we have been promoting multidisciplinary work in engineering through projects and final-year projects," explains Zouein. "We wanted to bring students from multiple engineering disciplines into big projects so they can learn from each other and collaborate in an environment that will simulate what they'll be exposed to in the real world."
Dr. George E. Nasr, the dean of LAU's School of Engineering, says: "The school provides for a distinctive and innovative learning environment that celebrates intellect, creativity and accomplishment. We place special attention to developing teamwork, leadership, communication, professional ethics and global awareness among our students in addition to rigorous core engineering coursework."
He adds: "We strive to produce engineering graduates who use these professional skills as well as technical knowledge to succeed in modern work environments."

Winning students
| | | |
| --- | --- | --- |
| 1st Prize | 2nd Prize | 3rd Prize |
| Karim Mrad (MEE) | Maria Hanna (INE) | Ihab Abdallah (MEE) |
| Lea Abi-Ramia (MEE) | Nadim Haddad (MEE) | Charbel Nakhoul (MEE) |
| Christian Habib (MEE) | Wahib Farhat (MEE) | Ziad Zubian (MEE) |
| Raquelle Azar (INE) | Bernard Loutfi (MEE) | Mohammad Soueid (MEE) |