LAU English faculty determined to enhance learning experience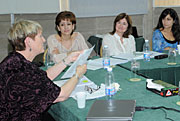 Renowned linguist and Fulbright professor Ann Johns (1st from left) leads a workshop on course rubrics and international teaching trends for LAU's English language unit faculty.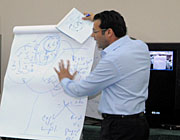 Dr. Victor Khachan, LAU English language unit coordinator in Byblos, illustrates his thoughts on teaching methods.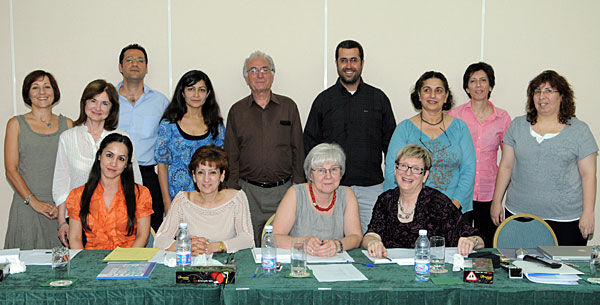 Workshop participants with Dr. Johns (1st from bottom right) and Dr. Irma Ghosn (2nd from bottom right), chair of LAU's Department of Humanities and Social Sciences in Byblos.
Click on any photo above to view all three images
June 30, 2009—
It was a Saturday morning discussion at LAU's Byblos campus that would have put most people back to sleep.

But for the dozen LAU faculty members representing the university's English language unit, established two years ago, the five-hour workshop on June 13, offered a riveting exposure to new methods and strategies to enhance student learning, and an opportunity to examine course rubrics and international teaching trends.

Part of the excitement was due to the presence of guest speaker Dr. Ann Johns, a professor of linguistics at the Department of Rhetoric and Writing Studies at San Diego State University in California.

"I see her as the prophet of linguistics — someone who can give us a vision in our work," said Dr. Nahla Bacha, LAU associate professor of linguistics, as she introduced the renowned scholar who recently arrived to Lebanon as part of the Fulbright exchange program.

Johns spent most of the time fielding questions from her audience, offering tips and drawing lessons from her decades of teaching experience.

She highlighted the importance of teaching material that can be used across disciplines and of developing students' reading and listening abilities.

"Reading and listening are much more important than writing," Johns said. "If [students] can't read and listen appropriately for a classroom, it's over."

But it wasn't until Dr. Victor Khachan, LAU assistant professor and English unit coordinator in Byblos, took the floor that it became clear what the exact concerns were that drove the LAU faculty to take part in the workshop.

"We're not accommodating even half way [the students'] needs," Khachan said.

The statement spoke volumes about the standards and expectations Khachan and his colleagues set for themselves as instructors.

For them, the workshop was part of an ongoing effort to enhance LAU's English program and provide their students with the skills necessary to succeed in their future goals and careers.

"[LAU's] English language program can be modernized and brought up to the current U.S. programs of a similar level," said Dr. Irma Ghosn, chair of LAU's Department of Humanities and Social Sciences in Byblos.

To reach those ends, the teachers say they must embrace changes and examine some of the ever-evolving theories and practices used internationally.

Despite their self-criticism, Johns reassured the teachers that LAU's English language program is already "very good" and comparable to many of those in the United States.

Nabil Salman, LAU professor of engineering and instructor of English, who has been serving at LAU since 1987, said meeting regularly with his colleagues to discuss strategies and share ideas has not necessarily revealed flaws in teaching structure, but that the gatherings are an essential part of any teacher's job in order to improve.

"Teamwork is the name of the game," Salman said.
 
"My policy is that you should not really be satisfied with what you're doing," he added. "Once you're satisfied, it means you are not moving forward — you become stagnant and that's not good in education."