LAU events reveal work of celebrated Italian architect
A lecture and an exhibition bring 20th-century architect Carlo Scarpa into spotlight.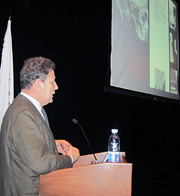 Francesco Dal Co, professor of architectural history at the University of Venice, explains various features of the celebrated Italian architect Carlo Scarpa's technique.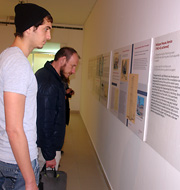 Students, faculty and interested members of the public attended the opening of an exhibition of Scarpa's selected drawings at LAU Beirut.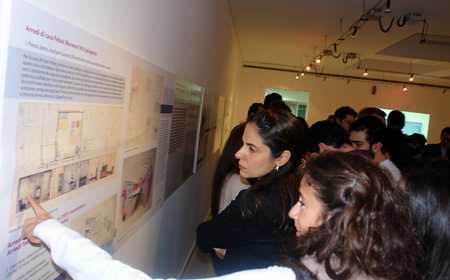 The exhibition runs until March 25 in Sheikh Zayed Hall.

From left: Dr. Elie Badr, acting dean of LAU's School of Architecture & Design and assistant provost for Academic Programs; Dr. Maroun Daccache, chair of LAU's Department of Architecture and Interior Design; Dr. Andrea Baldi, deputy of the Italian Cultural Institute of Beirut; Andreas Ferrarese, chargé d'affaires of the Italian Embassy in Lebanon; and Professor Francesco Dal Co, prominent Italian architectural historian.
Click on any photo above to view all four images.
The late Italian architect Carlo Scarpa is "one of the most interesting architects of the last century," according to his protégé.
Francesco Dal Co, a prominent Italian architectural historian and professor of architectural history at the University of Venice since 1981, would know — he studied under Scarpa and became influenced by his passion for structure and meticulous use of space.
"Scarpa was a deep scholar of structure," Dal Co explained to an audience of students and faculty during a lecture titled "Carlo Scarpa: A Master Behind the Times" at LAU Beirut's Gulbenkian Theatre on March 3.
"All of his museums are masterpieces and lessons for young architects," added Dal Co while showing photos of the Castelvecchio Museum, a building in Verona, Italy, that Scarpa restored between 1959 and 1973.
"A museum structure must bring sculptures to life through the use of light and space," Dal Co said, and Scarpa was methodical in the shapes and placements of windows, doorways, staircases, furnishings and fixtures.
Scarpa, who was also a notable glass and furniture designer, traveled around the world during his lifetime (1906-1978), and drew particular inspiration from Japanese architecture. His work also reflected the influence of his contemporary, architect Frank Lloyd Wright.
Scarpa taught for more than 30 years at the University of Venice's Institute of Architecture, where he inspired the young Dal Co.
"One of Scarpa's enduring lessons is that the past is alive and is a continuous subject of reinterpretation," said Dal Co. "You can reinvent the past to create something new and architecture should first and foremost offer a new experience."
Dal Co's lecture was followed by the opening of the exhibition "Carlo Scarpa: The Inhabiting Space, Selected Drawings 1931-1963," in Sheikh Zayed Hall in the Safadi Fine Arts Building.
The lecture and exhibition, which will run until March 25 (from 9:00 a.m.-7:00 p.m), were organized by LAU's Department of Architecture and Interior Design, in collaboration with the Italian Cultural Institute in Beirut, Italian Embassy in Lebanon, Italian Ministry of Foreign Affairs, and Rome's MAXXI Museum.
Dal Co is a senior fellow at the Center for Advanced Studies of the National Gallery of Art in Washington, D.C., and a scholar at the Center for Advanced Study at the Getty Center in Los Angeles, California.