LAU goes smoke-free
Lighting up is strictly prohibited on both Beirut and Byblos campuses.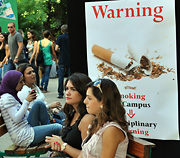 Posters warning against smoking are spread all over LAU premises.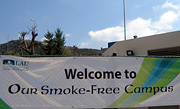 Banners promote LAU's non-smoking policy on the Beirut and Byblos campuses.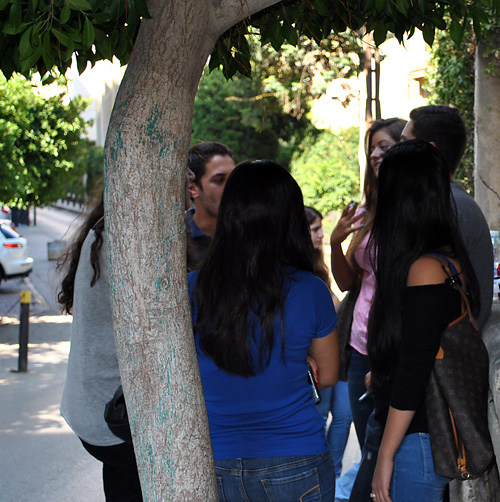 Smokers gather outside LAU Beirut's upper gate.
Click on any photo above to view all three images.
As LAU's new and returning students began their classes on September 26, the university had more to celebrate than the inauguration of the new school year. A much-discussed and long-anticipated university-wide smoking ban had been fully implemented on both campuses.
LAU announced the ban on July 25. Students who fail to abide by the new regulation will receive a disciplinary warning.
According to Dr. Raed Mohsen, dean of students at LAU Beirut, the new rule "is about conveying a message of civilization, which means that we have to respect other people's right not to smoke."
In an attempt several years ago to provide a healthier environment for students, faculty and staff, the university's Smoke-Free Campus initiative prohibited smoking inside buildings. Until this summer, however, smoking was still allowed outdoors.
Earlier this year the initiative was revived and revisited, prompting the university to deliberate a total smoking ban. On April 21, students, faculty and staff members took part in a Student-Staff-Faculty Forum (SSFF) panel discussion, "The Need for a Smoke-Free Campus," debating both sides of the issue. The eventual consensus was for smoke-free campuses.
Throughout the summer semester, several designated campus smoking areas remained. "Given how small the Beirut campus is," says Mohsen, that solution however was not sustainable.
In spite of the larger size of the Byblos campus, officials implemented the policy there too.
"With the School of Medicine and the School of Nursing now prospering, we are communicating a healthy message to the LAU community," adds Mohsen.
Non-smoking banners, flyers and billboards have been spread all over both campuses.
While some students feel their right to smoke has been infringed upon, many welcome the new rule.
Asked how he was holding up under the new regulation, Dr. Brian Prescott-Decie, an instructor of English and cultural studies and a regular smoker, said he "didn't mind it at all."
"If it gets me to walk a few extra paces each day, and perhaps even smoke a little less, that can't hurt," he says, adding that "if it does the same for the younger generation, even better. I support it."
Those who wish to smoke may do so off-campus. Students caught smoking on campus twice will lose financial aid benefits. If they are caught doing so three times, they will be suspended.
LAU President Dr. Joseph G. Jabbra urged faculty, staff and students alike to work together to make sure the new rule is successfully implemented.
"I extend my gratitude to all those who worked very hard to bring to reality our long-standing aspiration to convert our campuses into non-smoking campuses," says Jabbra.