LAU graduates 1,266 in Beirut and Byblos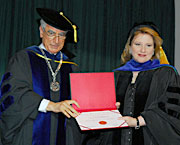 Dr. Jabbra and H.E. Leila El-Solh Hmadeh showing honorary degree.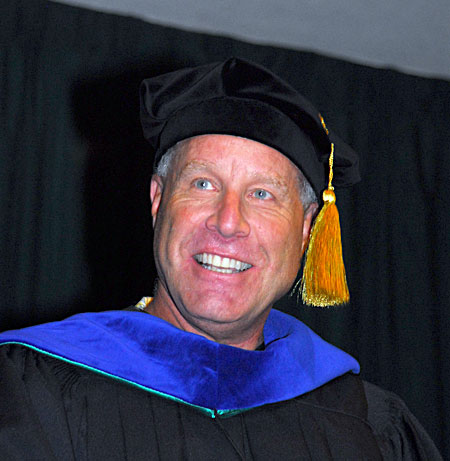 Mr. Paul Orfalea conveyed his belief in finding one's own answers.


Dr. Jabbra briefs audience on recent progress.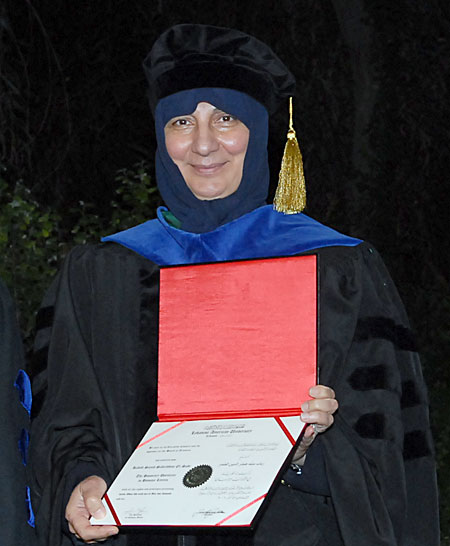 Mrs. Rabab El-Sadr with honorary degree.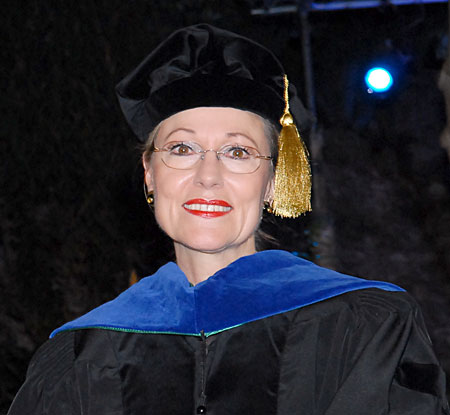 Dr. Benita Ferrero-Waldner reassured graduates by underlining LAU's high educational standards.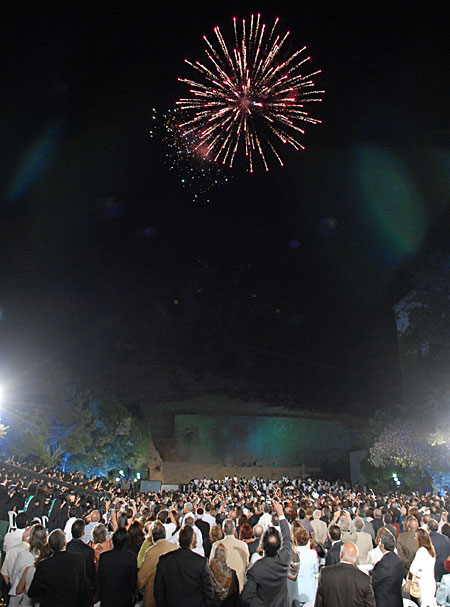 Fireworks light up over Byblos campus.

Click any image to view all seven pictures.
July 11, 2006—
The class of 2006 marched amid cheers from relatives and faculty, to mark the culmination of its university career at the Lebanese American University's commencement ceremonies in Byblos and Beirut on July 6 and 8, 2006.
It was the Beirut campus' 81st graduation ceremony, a grand event where 905 students received their degrees as officials, dignitaries, faculty, parents and friends looked on.
LAU President Joseph G. Jabbra wished them success, happiness and satisfaction in their future careers. He thanked the LAU community for providing students with an education that is "second to none."
Keynote speaker Paul Orfalea, an American enetrepreneur and philanthropist of Lebanese origin, advised graduates to keep their eyes open to opportunities.
"Re-discover who you are everyday, be comfortable with your anxieties, follow your intuition, trust your instincts and don't be afraid to make mistakes," he told students.
Having established Kinko's in 1970 with a single copying machine and a $5,000 loan, Orfalea was an apt dispenser of such advice. He transformed the one-man operation into a $2-billion-a-year business with 1,200 branches and 23,000 co-workers worldwide. Today he leads the Orfalea Family Foundation and remains Kinko's chairman emeritus.
Orfalea's life was marked by difficulties due to dyslexia and hyperactivity, but he embraced the constraints. Addressing the audience, he listed four of his personal qualities—being a bad reader, not being able to sit still and having no mechanical abilities.
"I am luckiest with the fourth. I have Lebanese parents. They gave me a sense of family, warmth and love, a sense of belonging, a sense of business," he said.
LAU also honored H.E. Leila El-Solh Hmadeh with a doctorate degree in humane letters. Mrs. Hmadeh, Vice President of Al-Walid Bin Talal Humanitarian Foundation, was the first Lebanese woman to hold a cabinet position when she was appointed Industry Minister in 2004. She is the youngest daughter of the late Prime Minister Riyad El-Solh.
Valedictorian Mohammad Sami Srouji conveyed gratitude to the university on behalf of his peers. "Education is so vital for us all and our achievements not only reflect our exertions but also mirror the success and greatness of this university," he said.
Dr. Samira Aghacy, Dr. Tarek Mikdashi, Dr. George E. Nasr and Dr. Abdallah Sfeir proceeded to hand out degrees—256 from the School of Arts and Sciences, 633 from Business and 16 from Engineering and Architecture.
The President's Award was granted to Mohammad Sami Srouji (Arts and Sciences), Sara Nazih Hilal (Business), and Narine Garbis Tchilinguirian (Engineering and Architecture) who got the highest cumulative GPAs in their respective schools. Anthony Naji Torbay received the Torch Award for exhibiting outstanding leadership in cooperation with others.
Two days earlier, the Byblos campus had hosted its 16th commencement, celebrating the graduation of 361 students.
Dr. Jabbra used the occasion to reiterate the first pre-med class would be admitted in October 2006 and a medical school would be built on the Byblos campus along with the Frem Civic Center and the Gibran Khalil Gibran Library.
Valedictorian Nahla Georges Fayad-Andraos from the School of Business in Byblos shared her story as a mother of four who decided to resume university studies assuming it would be a time killer.
Instead, she discovered that education is a mind and soul builder. "I am a much happier person with a clear purpose in life," she said.
Mrs. Rabab Sayed Sadreddine El-Sadr was decorated with an honorary doctorate in humane letters. Vice President for Student Development and Enrollment Management Layla Nimah introduced El-Sadr, outlining her accomplishments as the chairwoman of the Imam Al-Sadr Center for Research and Studies since 1962.
Another honorary doctorate in humane letters was bestowed upon European Commissioner for External Affairs and European Neighborhood Policy, Benita Ferrero-Waldner. Dr. Abdallah Sfeir, the vice president for academic affairs, introduced the keynoter describing her as "a role model for our students."
"Education is a prize whose value exceeds all others. It is the most important gift we can receive," said the EU Commissioner.
Dr. Ferrero-Waldner told students how fortunate they were to have had the opportunity to study at LAU. "Its reputation extends well beyond the borders of Lebanon, and indeed beyond the Middle East. And I am confident that with this start in life, you will go on to great things," she said.
She highlighted the quality of education LAU promotes, not only academic excellence and advancing scholarship but also the education of the whole person and promoting future leaders in a diverse world.
"As world citizens, I count on you to continue the task you began here in Lebanon, a country which is itself a lesson in building bridges between communities, by working for better understanding and respect between all the citizens of the world," Dr. Ferrero-Waldner told graduates.
Deans Fuad Hashwa, Wassim Shahin, Farid Sadek and Acting Dean George E. Nasr presented the graduates of the Schools of Arts and Sciences, Business, Pharmacy and Engineering and Architecture respectively with their degrees, while Dr. Sfeir conferred graduate degrees.
Graduating in Arts and Sciences were 66 students; 119 in Business; 76 in Pharmacy, and 100 in Engineering and Architecture.
The Torch Award went to Hala Akl El-Helou for exhibiting outstanding leadership in cooperation with others. The recipients of the President's Award were: Joelle Joseph Ghanem (Arts and Sciences), Rabih Ramzi Shehayeb (Pharmacy), Sandy Joseph Helou (Engineering) and Nahla Georges Fayyad-Andraos (Business).