LAU honors its best students in ceremonies on both campuses
Annual Student Honor Society ceremonies in Beirut and Byblos recognize outstanding LAU students for academic excellence.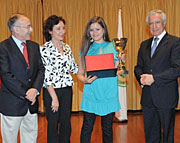 Stephanie Rayess receives the Rhoda Orme Award in Byblos.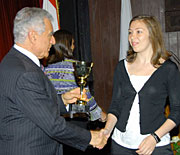 LAU President Joseph Jabbra grants the Rhoda Orme Award to Alexandra Chreiteh at the Beirut-campus ceremony.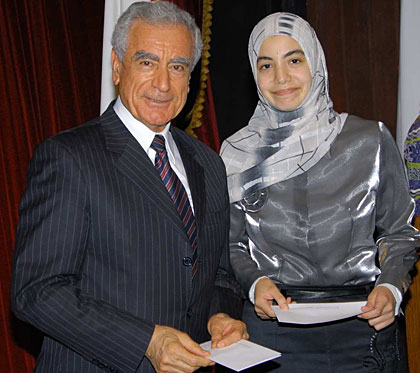 Bayan Abdul Hafiz Itani finished the academic year with the highest maximum GPA in LAU's School of Arts and Sciences in Beirut.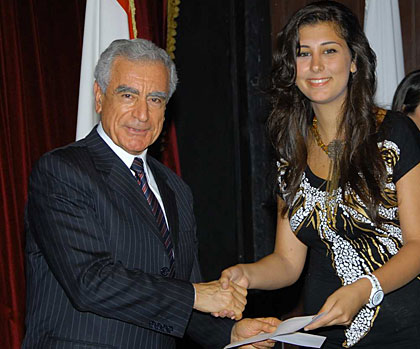 Ghida Fawzi Matar is recognized for having the highest GPA in the School of Business in Beirut.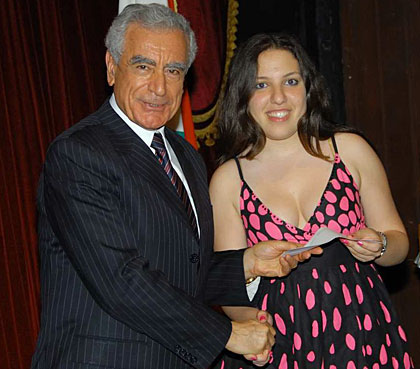 Joelle Michel Hayek, the student with the highest GPA in the School of Engineering and Architecture in Beirut, gets her certificate from Dr. Jabbra.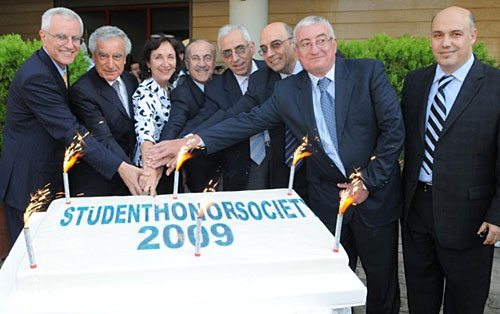 LAU officials at the Student Honor Society ceremony on the Byblos campus.
Click on any photo above to view all six images
Bayan Abdul Hafiz Itani chose LAU to study journalism and pursue her dream career in that field. She says she wasn't wrong as she found all the facilities and encouragement she needed to be successful at LAU.

And successful is perhaps the best way to describe her.

Itani finished the academic year with the highest maximum GPA in LAU's School of Arts and Sciences and she received an award for her achievements at the 2009 Student Honor Society ceremony held on the Beirut campus June 3.

She was one of seven LAU students with the highest GPAs who were awarded for their academic achievements in ceremonies on both campuses earlier this month.

But humbly, Itani says she couldn't have achieved anything without the support of her parents and professors. "I have to thank my mother for everything she gave me. Although I am the journalism student, she reads every single story that I write," Itani said.

Ghida Fawzi Matar, the student with the highest GPA in the School of Business, says being brilliant is not always enough; you need to work hard and have the support of your family. It is what she says she realized during the 10 years her mother stood by her and helped her with her education, after her father passed away.  

And with the same humbleness and modesty that Itani and Matar accepted their awards, all of the other awarded students — Joelle Michel Hayek, Frida Nazih Smiley, Michel Fayez Ammoury and Antoine Boutros Gebrayel — also thanked their parents and instructors.

During both ceremonies, special awards were granted to two female senior students in recognition of their outstanding spirit and services at LAU. This year, Alexandra Chreiteh and Stephanie Rayess received Rhoda Orme awards in Beirut and Byblos respectively.

The award, initiated by Rhoda Orme, the former acting president at LAU in the mid-1950s, is traditionally given to outstanding female students at LAU because of the university's roots as a women's institution.

Every year, more than 300 students who complete over 24 credit hours with a GPA above 3.5 automatically become part of the Student Honor Society. Those who complete more than 60 credits and maintain a similar high average receive awards.

Honoring and awarding the academic efforts of the students is a reward for the professors and the parents at the same time, according to Dr. Tarek Na'was, Dean of Students on the Beirut campus.

"I think that when we meet on a day like this we really know the value of our careers as professors," said Na'was at the Beirut ceremony that gathered students, parents and professors in the Irwin Hall Auditorium.

"The fate of humanity is being determined everyday by our ability to educate brilliant students. We have to make sure they are tomorrow's leaders, who respect the past and work to build the future of our community and of the whole world," said LAU President Joseph Jabbra.