LAU hosts annual public-speaking competition
Students from throughout Lebanon competed in the English-Speaking Union contest with short speeches on the theme of "Speculations on Our Future."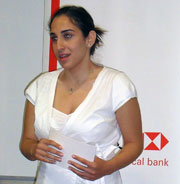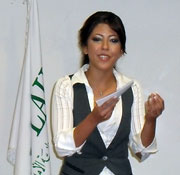 Two LAU students participated in the 10th annual English-Speaking Union public-speaking competition hosted at LAU Beirut on April 17: Sara Gharazeddine (1st photo) and Farah Malla (2nd photo).
Fourteen students from eight universities across Lebanon attended the 10th annual English-Speaking Union public-speaking competition, at LAU Beirut on Saturday April 17.
At the half-day event held in the Business Building Room 903, the audience of 120 students and families listened to five-minute speeches individually prepared by candidates on the theme of "Speculations on Our Future."
Students from LAU, Balamand University, Université Saint-Joseph, Haigazian University, Hariri Canadian University, Lebanese International University, Notre Dame University and the Lebanese University competed in the event.
Speeches covered topics such as overpopulation, global warming, the human struggle for unattainable perfection, the pros and cons of technology, and the end of the world as we know it.
Two students participated from LAU: Sara Gharazeddine and Farah Malla. "I was hoping that we would win, because last year we won both first and second prizes," says Dr. Nabelah Haraty, a lecturer of speech communication and English in LAU's Department of Humanities. She is the ESU coordinator in Lebanon and oversees all ESU speech and debate activities in the country.
Haraty points out that this is the first year that LIU and Hariri Canadian University participated in the event. She adds: "I like how all university students come together, and I like it when universities where English is not the primary language of instruction produce students who do well in this competition."
The six-member jury was made up of both foreign and domestic dignitaries, including the Belgian Ambassador Johan Verkammen and Saudi Arabia's Cultural Attaché to Lebanon Ayman Moghrabi; Nicola Davies representing U.K. Ambassador Frances Guy; Dr. Alia Khalidy, director of the Babel Theatre; Suzan Morgan, first-ever winner of the public-speaking competition in Lebanon 10 years ago — who represented the country in the U.K. International Finals — and Sarah Jerejian of HSBC who presented the winners with their prizes.
The jury selected two winners — Ani Ghazarian, 18, a pharmacology student at LIU, and Mouataz al Izrawi, 19, a medical student from Balamand University — who will now progress to the international round of the competition, taking place in London in May.
Israwi's winning speech "Oops, I'm Pregnant … Again!" dealt with the dangers of overpopulation, and Ghazarian's winning speech discussed the pros and limitless possibilities available through innovation in genetic engineering, such as a world free of diseases.
While more than 50 countries will send delegates to the London competition, each country can only send one candidate, so Lebanon's candidates must battle each other for that coveted place.
Now in its 28th year, the international competition is sponsored by HSBC, and is only open to 18-20 year-olds. The international final will take place on May 20 at the headquarters of HSBC in Canary Wharf, London. HSBC also sponsored the event in Lebanon.