LAU hosts intercollegiate dermatology conference
Residents and clinicians from five medical schools in Lebanon gather at LAU Medical Center – Rizk Hospital to present and discuss case studies of rare skin conditions.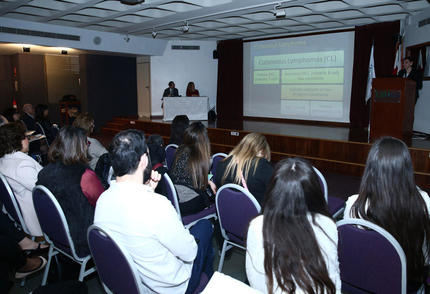 The Department of Dermatology at the Gilbert and Rose-Marie Chagoury School of Medicine hosted the Lebanese Dermatological Society-sponsored Dermatology Clinicopathologic Correlation Conference last Saturday.
Taking place at LAU Medical Center – Rizk Hospital, the event brought together dermatology residents and practitioners to reflect on challenging cases, including live patient viewing, discuss latest treatments and scientific developments in the field, and promote inter-center learning.
"Skin is the mirror of different internal diseases," said LAU Associate Professor and Chairperson of the Department of Dermatology Zeina Tannous, who acted as the program chair and moderator. "The goal of this multidisciplinary meeting is to look at dermatology from a different perspective, through different pathologies, including oncology, to benefit all disciplines."
The day kicked off with the participants touring the hospital's dermatology clinics giving them the opportunity to interact directly with four patients presenting problematic cases.
Taking part in the event was of utmost importance to William, 14, who has been suffering from a rare form of skin disease for the past four years, as he was able to discuss his condition with several doctors at once. So did Youssef, 68, and Celine, 23 ― two patients struggling with their diseases ― who welcomed the opportunity to discuss different treatments.
"This conference presented a unique opportunity to learn about rare and challenging cases that are difficult to diagnose and therefore to treat," said AUB dermatologist Mona Matta. "It gave patients access to more than one medical opinion in a single setting," she added.
Back in the conference room, residents from five medical schools in Lebanon presented 20 cases of diverse conditions chosen from dermatology departments at LAU and across the region. From rashes and pruritus to hard skin and melanoma, a wide variety of uncommon pathologies affecting patients from two months to 71 years old were presented.
"It is important that we, as medical professionals, collaborate and learn from each other," said Dr. Dany Touma, head of the Lebanese Dermatological Society. "We have heard today about cases which many doctors may not see throughout their entire career," he added.
LAU resident Farah el Chaer was on the panel presenting the case of a 71-year-old post mastectomy patient with a month-old history of right-arm erythema. The study showed the histopathological correlations between the two conditions, urging physicians to evaluate postmastectomy patients regularly and be prompt to biopsy any suspicious lesion. "I wanted to raise awareness of the importance of early diagnosis in some dermatological diseases which is key to improve survival rates," el Chaer said.
On hand to give el Chaer and the other residents feedback was Paris-based dermatologist Dr. Selim Aractingi, professor at the Faculté de Médecine Paris Descartes and adjunct to the Department of Dermatology in Cochin Hospital, who is leading a research team on stem cells in skin biology at Pierre et Marie Curie Faculty of Medicine.
As co-moderator and guest speaker at the event, Aractingi talked about the relevance of and advances in personalized medicine. "I don't recall hearing much about melanoma in Lebanon while growing up, but now we hear of many cases," said the professor, whose research includes dermato-oncology and skin manifestations of hematological malignancies. Explaining the benefits of molecular analysis to classify, sub-classify and determine treatment efficacy, Aractingi suggested that a genetic comparison of melanomas from different countries may yield interesting results.
Throughout the day, the various presentations allowed the residents, and practitioners accompanying them, to engage in animated discussions about new research, recent practices and recommendations in the field. "It was most useful and insightful," said Lebanese University resident Zeinab Youness, who presented studies about patients with pruritus and crusted lips.
As the event ended, the organizers reminded all that patient centeredness stands at the core of LAU health schools' curriculum and approach. "This meeting would not have been possible without the contribution of our patients," said Tannous. "We are indebted to them, and hopefully we did our best to make a positive change in their lives."