LAU hosts international poster exhibit promoting freedom of expression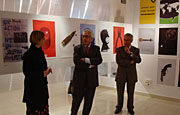 Ennio Troili, director of the Italian Cultural Institute in Lebanon (center), gives a brief introduction to the "Poster4Tomorrow " exhibition, in the presence of LAU President Dr. Joseph G. Jabbra and Randa Abdel Baki, chair of the Graphic Design Department–Beirut.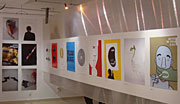 The posters on display share a common theme: freedom of expression.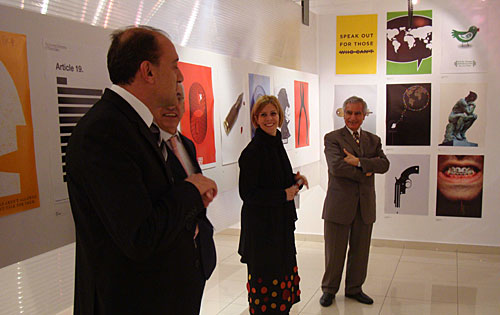 Abdel Baki gave some opening remarks before inviting Dr. Jabbra (right) and Dr. Elie Badr (1st from left), acting dean of the School of Architecture and Design, to speak briefly during the opening of the exhibit.
Click on any photo above to view all three images.
December 16, 2009—
Crowds swarmed to LAU Beirut on December 10 for the opening of an international graphic design exhibition of posters that are all based on the common theme of freedom of expression.
The "Poster4Tomorrow" exhibition was launched simultaneously across 21 countries last week to mark the 61st anniversary of UN's Universal Declaration of Human Rights.
The exhibition, organized in Beirut by LAU's Graphic Design Department and the Italian Cultural Institute in Lebanon, features 100 posters made by artists from more than 70 countries around the world. The same posters are on display at each exhibition. The works were selected from among 1,834 submissions.
Many posters appear to criticize war, government and religion. Some objects reoccur in the works, including the pencil, the veil, and the hand covering the mouth.
"They get to the point immediately," says Ennio Troili, director of the Italian Cultural Institute, referring to the posters' explicit messages.
While there were no artists from Lebanon featuring their works at the exhibit, Lebanon is one of two Arab countries (along with Morocco) to host the event.
Lebanon "is the only country in the Middle East where this exhibition is being hosted," Troili says. "And that is a very important element — you are an example of democracy and a multi-cultural and multi-religious society," he adds.
"We are proud to host this because it represents what we believe in at the Graphic Design Department, which is the freedom of being yourself and being unique," says Randa Abdel Baki, chair of the Graphic Design Department-Beirut.
Internationally, "Poster4Tomorrow" is being held under the patronage of the Council of Europe and the French National Commission for UNESCO, and is endorsed by Amnesty International and Reporters Sans Frontières.
"What is interesting about this event is having work from Italy, France, Portugal, Spain, etc.," Abdel Baki says. "It's a universal expression."
The exhibition will run in the Sheikh Zayed Hall of the Safadi Fine Arts Building until Thursday, December 17, from 10:00 a.m.-6:00 p.m.