LAU hosts library enthusiasts from Iraq, France
LAU Beirut's library staff gives tours to Iraqi and French visitors interested in everything from e-reserve technology to the layout and design of study areas.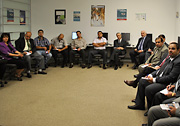 Members of a delegation from Iraq's Ministry of Higher Education, various universities and publishing companies learn about the services offered at LAU Beirut's Riyad Nassar Library.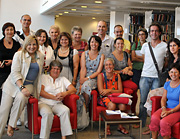 The 16-member delegation from the Association of French Librarians of the Provence-Alpes-Côte d'Azur region with LAU faculty and library staff.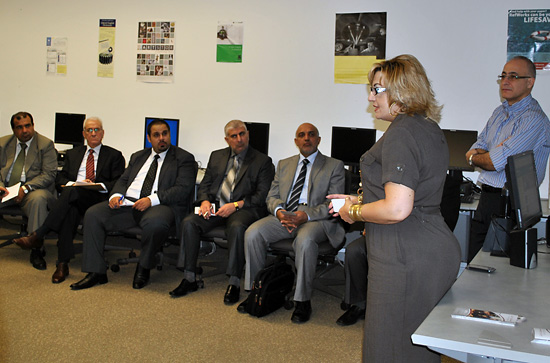 Cendrella Habre, LAU Beirut library director, tells the Iraqi visitors about the library's e-books and online journals.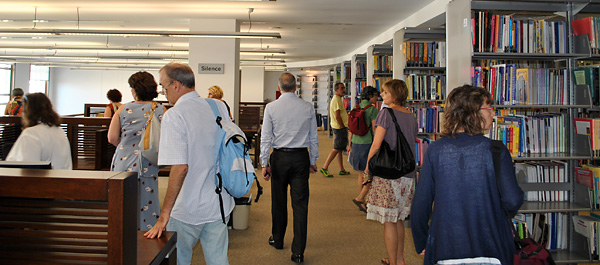 The visiting French librarians take a tour of the Riyad Nassar Library's 12th floor.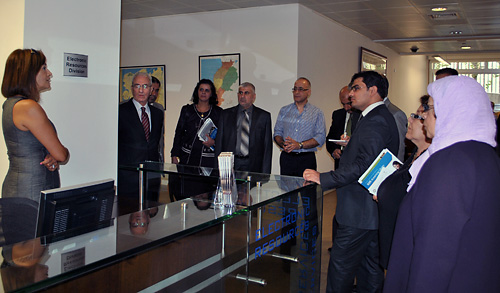 Houeida Charara, electronic resources librarian, answers questions from the Iraqi delegation.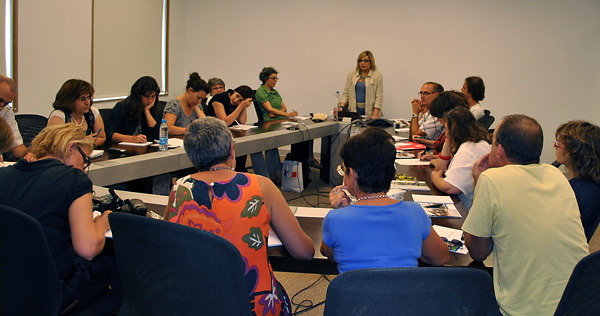 Habre addresses the French visitors.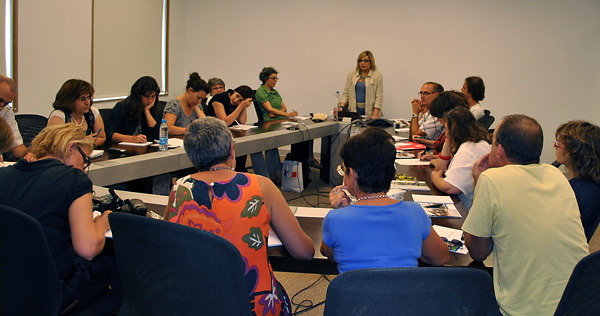 The Iraqi delegation with LAU library representatives.
Click on any photo above to view all seven images.
September has been a busy month for the staff at LAU Beirut's Riyad Nassar Library. In addition to preparing for the upcoming school year, the library has played host to Iraqi and French librarians and higher education professionals interested in various aspects of library operations, from e-content management to the use of public spaces.

Iraqi delegation visit
On September 9, a 17-member delegation from the Ministry of Higher Education, various universities and publishing companies in Iraq got to know the ins and outs of the library from its director, Cendrella Habre.
The Iraqi guests hope to replicate LAU Beirut's library in their home country by taking tips on design, new technology and day-to-day operations.
"I mainly emphasized the issues of service quality, space, environment, IT, and teamwork in the library," says Habre.
During the visit she also explained the negotiation process that goes into subscribing to or renewing online resources, as well as the switch from print to online versions of the library's periodicals.
The guests came ready with many questions and discussed their own unique challenges in implementing newer and more efficient library services.
"From the first look, this library is amazing," says Khalaf Youssef, head of post-graduate studies in the Ministry of Higher Education and administrator of the Iraqi Virtual Science Library, a consortium. "There are many challenges in libraries in Iraq right now, including the budget of individual universities, the mentalities of the librarians and staff, and technology issues."
"Because of the war, new technologies and databases aren't necessarily available in Iraq. We need to develop the staff of our libraries at Iraqi universities and that's why we're here," says Dr. Isam Khdayer Mahmud, of Al-Thakera Publishers and Distributors.
Mahmud organized the visit after a previous tour of the Riyad Nassar Library in July. He added that he was impressed by the size of the LAU library, which he considers very highly ranked in the Arab world. "It shows the university gives a lot of attention to its library," he says.
The LAU library tour was part of a three-day workshop called "Development of Academic Libraries in Iraq," which included various visits and trainings around Beirut.
Habre says that after the visit, the Iraqis asked if she and her staff could offer them training workshops on negotiations with online publishers.
French library association tour
Sixteen French librarians visited the library on September 19 as part of an annual trip designed to exchange ideas and information with counterparts in different countries.
Members of the Association of French Librarians of the Provence-Alpes-Côte d'Azur region met with Habre and other staff to learn more about the library's services and use of public spaces.
"It's important for us librarians to get together and exchange ideas, stay connected, and see what's going on outside of our region," says the trip's organizer, Marie-Hélène Bastianelli from Marseilles, a retired librarian who has remained active in the association.
"From what I can tell, this library is very interesting with its use of public spaces," says Pierre Triballier, a librarian from the town of Hyères in the south of France. "A library should, after all, also be a place to socialize and find people with common interests," he adds.
Habre agrees, saying that the quantity of books doesn't make a library great — it's the quality of the materials offered, and a lot more.
"In my opinion, we stand out in the region because we offer services to the community beyond the walls of the library — we are not a traditional academic library," says Habre. "We have friendly, welcoming staff; the design is attractive and comfortable; and students feel at home. We pride ourselves on being service-oriented and always up-to-date in terms of technology."