LAU launches professional fitness program
The university's Continuing Education Program now offers a three-semester program leading to the Professional Fitness Diploma.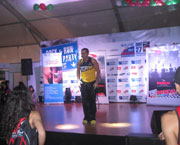 Representatives spread the word about CEP's new Professional Fitness Diploma program at the main tent of the 2011 Blom Beirut Marathon.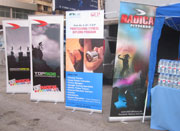 CEP's Professional Fitness Diploma Program station for the 2011 Blom Beirut Marathon.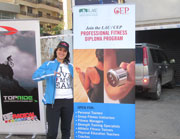 Sally Hammoud, CEP's Fitness Program coordinator, poses in her running gear at a stop for the 2011 Blom Beirut Marathon.
Click on any photo above to view all three images.
LAU's Continuing Education Program recently established a professional fitness certificate program in collaboration with the Sport Performance Institute (SPI), an international Canada-based educational organization.
"There are many fitness trainers in Lebanon, but few are professionally qualified," said program coordinator Wael Jaber. He added that demand for the latter is rapidly growing in the Arab countries, and that in Saudi Arabia women trainers are particularly sought after.
Michel Majdalani, CEP director, says that this new endeavor provides a missing link between an existing program and the community. "By providing good standards of practice and by promoting a healthy lifestyle based on professional competence through community involvement, we are projecting a positive image to the public, which then in turn reflects back positively on LAU," he says.
"At CEP we take a cutting edge idea and out of it create value for society based on practical knowledge, added skills and proven abilities," Majdalani continues. "And this professional fitness program is a perfect example of that."
The curriculum draws on SPI's in-depth, science-based educational programs for personal trainers, instructors, coaches, and athletes.
Over three semesters (fall, spring and summer), students take 11 courses in specialized fitness topics as well as general anatomy and nutrition. Graduates receive a Professional Fitness Diploma.
People of diverse professions with a keen interest in physical fitness have found the program enriching, in some cases even career-changing.
Eli Slaibi, a recent graduate of the program, worked for ten years in hospitality management before discovering his passion for attaining optimal physical shape. "The course opened so many opportunities to me," he said. Slaibi is now a trainer with Senses, one of Lebanon's most highly regarded fitness clubs.
Tsoline Bostanian, a student with degrees in accounting and fashion design, said she was "looking forward to helping others improve their physique and keep a healthy state of mind." She trains up to four times a week. Through the program she has learned the importance of nutrition to those who exercise intensively.
Personal trainer and post-injury rehabilitation training specialist Dima Alameddine said the diploma helped her gain managerial skills she needed in her career.
Most of Alameddine's clients are medical doctors. Speaking of the benefits of physical fitness, she says, "Regular exercise can help you avoid sickness and enjoy better sleep. Ultimately, life is more enjoyable when you're fit."
Students of the program are aware that peace of mind is essential to physical shape, and vice versa. "Some people who try hard to lose weight and constantly think about it have more trouble reaching their desired weight than positive-thinking individuals following the exact same program," said Jaber.