LAU makes the world your second home
LAU hosts the first International Education Week to encourage students to explore opportunities abroad.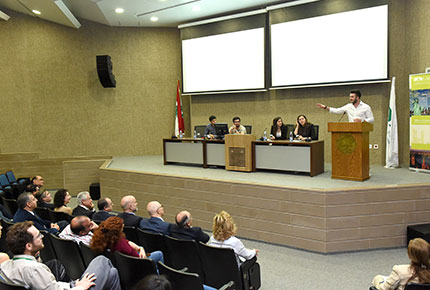 Over 30 universities, institutions and embassies from around the world gathered at LAU for International Education Week. The event that took place in April was dedicated to providing networking opportunities and information for students seeking to pursue further studies abroad.
The opening ceremony, held on April 19, inaugurated a series of events designed to benefit both students and staff members, ranging from sessions on international internships, to world-class Ph.D.s and faculty-led study trips.
"The time has come to put in place international education in practice, in a world that is so characterized by the culture of knowledge," said LAU President Joseph G. Jabbra speaking about LAU's commitment to internationalization.
"LAU looks forward to increasing the number of students who have an international education experience," added Elise Salem, vice president of Student Development and Enrollment Management (SDEM) at LAU. "It transforms their education and, often, their lives."
In order to provide LAU students with the best possible assistance in finding the right opportunity to mold their character and hone their skills, SDEM recently introduced a new Office of International Services. The office coordinates with the seven schools at LAU and with the relevant international partners to ensure the necessary guidance and guarantee that academic standards are met when incorporating international programs within the curriculum.
"With dozens of leading international partners in many different countries in Europe, the U.S., and Canada, we coach our students on how best to embark on such a life-changing experience," said Dina Abdul Rahman, international services associate program manager and head of the Office of International Services.
The International Education Week was inaugurated in the presence of the Minister of Education and Higher Education Elias Bou Saab. "I, too, am a product of international education," he said, "therefore I understand the importance of being able to mingle with people of different cultures in order to broaden one's thinking."
This proved true for LAU students who related their experience of studying abroad. "The classrooms were full of international students, like a world in miniature," said Tatiana Karam, Political Science and International Affairs student who conducted her exchange at Science Po Paris during the fall of 2015. "I realized that life begins at the end of your comfort zone," she added.
Exchange programs also enable foreign students to discover Lebanon and its culture. Paul Khoury, a Science Po student in Paris who defined himself as a "child of the Lebanese diaspora," had the opportunity to rediscover his country of origin and learn its language thanks to the SINARC program. "When I was young I always rejected my Lebanese origins," said Khoury. "Now I understand Khalil Gibran when he said: 'If Lebanon wasn't my country, I'd choose it as my country'."