LAU Medical School holds first faculty meeting
The school's founding faculty gears up for the start of its innovative M.D. program.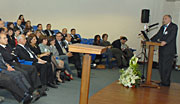 Dr. Kamal Badr, LAUMS founding dean, conveys the mission of the new school.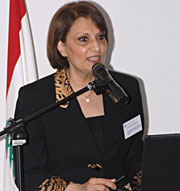 Dr. Zeinat Hijazi, assistant dean for Medical Education, explains the school's groundbreaking, contemporary curriculum.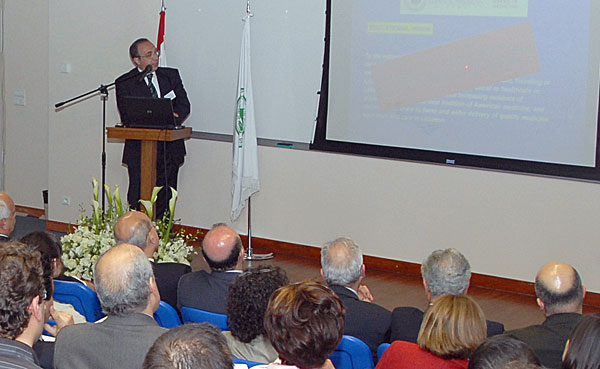 Dr. Tony Zreik, assistant dean for Clinical Affairs, talks about faculty recruitment.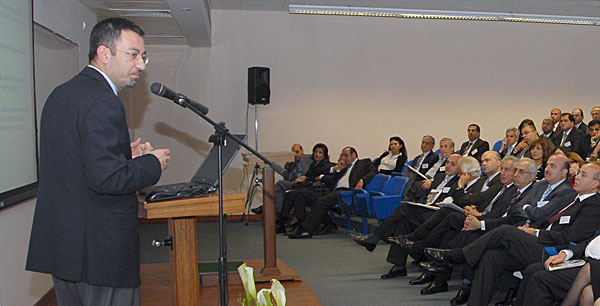 Dr. Pierre Zalloua, assistant dean for Research, introduces the school's prominent researchers.
Click on any photo above to view all four images
The founding faculty of LAU's new School of Medicine convened on the Beirut campus for its first meeting April 3.
"The meeting represents a foundational event to help us start the process of building the school," said Dr. Kamal Badr, dean of LAU's
Gilbert and Rose-Mary Chagoury School of Medicine
, which is affiliated with Harvard Medical International.
"We are creating a very unique medical school with an emphasis on excellence in clinical care, teaching, and research," Badr added.
The school has recruited 108 researchers and doctors out of 300 applicants for faculty positions. They come from the United States, Canada, the UK, Lebanon, and other Arab countries and bring diverse specializations—general surgery, cardiology, neurology, genetics, oncology, radiology, obstetrics, gynecology, dermatology, gastroenterology.
Faculty members were "chosen on the basis of high merit and research accomplishments," said Badr.
An integrated curriculum based on self-directed patient-based learning has been devised for the first class of 24 students that will begin M.D. coursework in September 2009.
According to LAU President Joseph Jabbra, the school hopes to produce doctors who "are energized by a fundamental ethical fiber that would govern their behavior day in and day out."
"The Medical school wishes to create a humane healer, not just a factory of seeing patients as customers," explained Dr. Tony Zreik, assistant dean for Clinical Affairs.
The school's graduates "will accept and respect patients of every racial and religious background, rich or poor," said Dr. Zeinat Hijazi, assistant dean for Medical Education.
Prospective students and faculty will have access to a plethora of resources and online medical databases in one of Lebanon's finest libraries.
Unique classrooms have been designed for full-immersion instruction while several courses will be delivered in a conference setting with four students per professor.
A multidisciplinary Stimulation and Skills Assessment Center will house labs and state-of-the-art technology to provide students with a venue for effective practical learning.
Clinical Skills Teaching and Assessment labs have also been configured for the replication of patient scenarios. Thanks to an agreement with LAU's Arts and Communication Department, drama students will play the parts of patients, an exercise geared to enhance effective communication skills.
The school will provide students with the opportunities "to become contemporary, confident doctors who will observe the ever-changing world and realize the needs of their patients and solve problems with an open mind," said Hijazi. "Our students will be life-long learners of medical education who will never be scared to say 'I don't know,'" she added.
The school aspires to partner with revered American medical centers, and create employment opportunities for its graduates in the United States.
Discussions are also under way to establish ties with scientific centers of English-speaking European countries known for their excellence in biomedical research.
Locally, students will work with the Clemenceau Medical Center, affiliated with Johns Hopkins Medicine International, and the Rafik Hariri University Hospital.