LAU medical school welcomes first doctoral students
LAU's Gilbert and Rose-Marie Chagoury School of Medicine opens its doors to the school's founding class of 25 students from throughout Lebanon.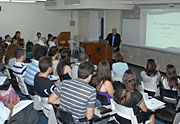 Dr. Kamal Badr, founding dean of LAU's School of Medicine, addresses students during orientation.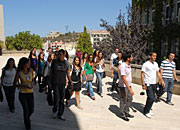 Medical students taking a tour of Byblos campus during their orientation.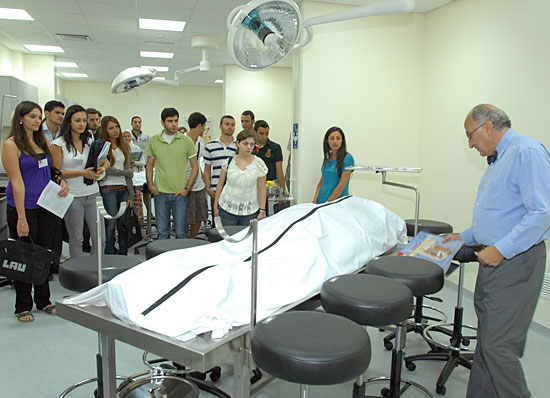 Dr. Badr shows students a lab where they will be dissecting human cadavers.

Click on any photo above to view all four images
LAU's newly established School of Medicine opened its doors last week in Byblos to a group of 25 students seeking doctoral degrees.
The Gilbert and Rose-Marie Chagoury School of Medicine, named after the couple who donated $10 million to finance the construction of the school's complex, has been conceived with the help of Harvard Medical International, an academic health care delivery organization with which LAU has signed a 10-year agreement to help provide resources and professional expertise.
The entering M.D. students, all of whom are Lebanese with the exception of one young woman from California, took part in a daylong orientation at LAU's Byblos campus on August 31, one day prior to the beginning of classes, and were introduced to some of the school's faculty and staff.
Dr. Kamel Badr, the school's founding dean, congratulated the first batch of students while praising the medical program's cutting-edge curriculum. He said that even visiting HMI delegates were amazed by the integrated program and "the degree to which it is advanced in terms of the methodology."
"But as much as we have done for the program, we know that we need a lot of help and feedback from you," Badr told the students during the orientation. "We are creating this medical school together," he added. "You are the firstborns, and the firstborns are always given special attention and special privileges."
The medical school's building remains under construction in Byblos and is scheduled to open in 2010. For the next two years, the students will attend classes and use labs in a building adjacent to the construction site.
According to Badr, most of the students' hands-on training will take place in the Rizk Hospital, which was recently purchased by LAU and renamed University Medical Center-Rizk Hospital.
The students will also have the opportunity to practice at the Clemenceau Medical Center and Rafik Hariri University Hospital, which have forged agreements with LAU to allow students access to use their clinical facilities.