LAU molecular biology graduates compete in a display of visual science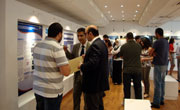 Second-and-third year molecular biology graduate students present their research, while first-year students present their thesis proposals.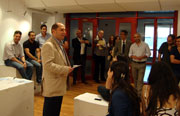 Dr. Constantine Daher announces the results of the Best Poster Award.
Click on any photo above for larger version.
June 14, 2012—
The Department of Natural Sciences at LAU Byblos hosted the 5th Annual Poster Conference in Biology and Biomedical Sciences on May 18th, bringing together natural sciences students, faculty members as well as three prominent figures in the field.
The conference allows students an opportunity to get away from their laboratories and promote their research through posters they design themselves. Research topics range from cell biology and molecular microbiology to proteomics (the study of proteins).
According to Maya Farah, supervisor of the graduate biology labs and chair of the event, the purpose of the annual competition is to replicate the professional milieu of international symposiums. Sharing scientific research vis-a-vis visual exhibitions is a familiar convention in the science industry.
"This event allows everyone the opportunity to see work being done in the department, and fosters the kind of feedback and exchange that can improve one's own work," she adds.
The conference kicked-off with a training workshop detailing the theory, design and application of real-time PCR (a laboratory instrument relevant to all molecular biology research fields).
Before the competition officially began, keynote speakers provided students with an inside look at their own areas of scientific expertise in the Frem Civic Auditorium.
In the afternoon, students defended their research to a four-member jury consisting of the guest experts as well as Dr. Brigitte Wex, assistant professor in the natural sciences department in Byblos. The jury made evaluations on the aesthetic appeal of the poster, scientific merit and demonstrated skill in communicating complex scientific ideas.
"The posters were of professional quality," said Wex. "The contents ranged from project proposals to completed projects ready for publication in international, peer-reviewed journals," she added.
The panel underwent extensive deliberations before coming up with the winners, which according to Wex reflected the overall high caliber of the work presented.
"I was very impressed by the professionalism of the posters—they keep getting better and better each year," Farah said.
According to Dr. Constantine Daher, chair of the Department of Natural Sciences in Byblos, the competition serves to sharpen students' research and presentation skills as well as their powers of persuasion — all necessary tools for budding scientists, who need to secure outside interest and support for their work.
While Stephanie Mehanna and Anita Nasrallah received appreciation certificates, a prize of $100 was given to two students, Gregory Antonios and Samer Hanna, who tied for the Best Poster award. Traditionally only one student is selected to receive the top prize; in determining that two were necessary, Dr. Daher cited this year's unusually strong group of contestants.