LAU offers seminars on Lebanese labor law
LAU's Continuing Education Program will organize its second daylong seminar on the Lebanese labor law, open to the public, in April following the success of a similar event recently.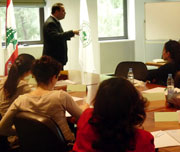 Dr. Dany Samaha, an attorney at law in Lebanon, conducts a seminar on the Lebanese labor law, organized on March 6 by LAU's Continuing Education Program.
Working professionals, non-lawyers, employees and employers interested in learning more about legal issues at work can attend a daylong seminar on the Lebanese labor law, to be held April 10, at the Beirut campus, by LAU's Continuing Education Program office.
The same seminar was also held on March 6 and attracted a variety of graduate students and working professionals.
The eight-hour seminar covers everything from employee/employer rights and obligations to vacation, overtime and sick leaves, while teaching participants how to identify abusive firing. It also trains them to read and find gaps in employment contracts, as well as to understand social security regulations in the private and public sectors.
"CEP has always been a pioneer in offering professional workshops for those who seek professional development and aim at enhancing their careers and expanding their knowledge in the working field," says Monya Berjawi, an LAU graduate student who works at the CEP office and helped organize the seminar.
Both seminars are led by Dr. Dany Samaha, an attorney at law in Lebanon who has published numerous works, and has lectured and offered training seminars at La Sagesse University, Lebanese University and the Lebanese Chamber of Commerce.
Around 40 people participated in the event on March 6. Half of them were CEP students enrolled in the Professional and Senior Professional in Human Resources Management (PHR/SPHR) preparatory courses. The other half were HR managers and coordinators at banks, universities, schools, and other institutions in Lebanon.
The seminar turned out to be a huge success, according to Bushra Badran, CEP administrative assistant.
"Based on their evaluation forms, the participants said they were generally very satisfied with the outcome of the seminar," Badran says. One participant found the examples given during the workshop "practical and applicable," while another wrote: "Everything was well-organized and easy to follow."
However, Badran says some of the participants found that "the issue contained too much information for just one day — They felt we needed to extend it over two days."
For more information about the participation fee and other details, or to register for the April 10 seminar, contact the CEP office at cep.beirut@lau.edu.lb or 01-786456, ext. 1390 or 1676.