LAU photography instructor bridges cultures
Bassam Lahoud reveals the importance of photography at LAU and how it has shaped his life.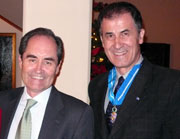 LAU photography instructor Bassam Lahoud (right) with the Spanish Ambassador in Lebanon after receiving the "Order of Civil Merit–Grade of Commander" medal.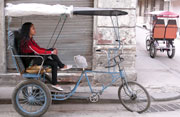 A photo taken by Lahoud in Havana, Cuba.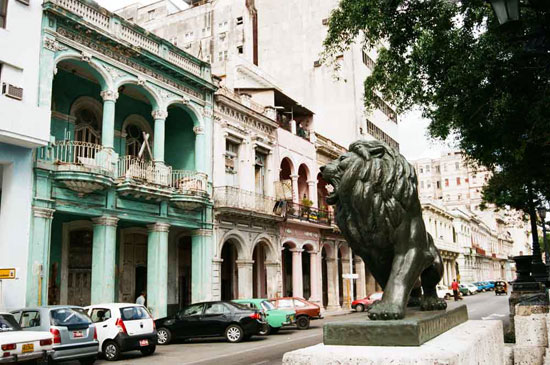 Lahoud's photo of the architecture in Havana, Cuba.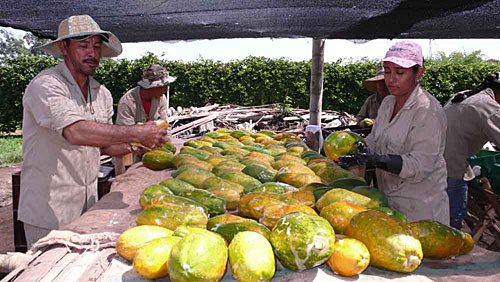 Photo of papaya farmers taken by Lahoud in the area of the Cauca River, in Colombia.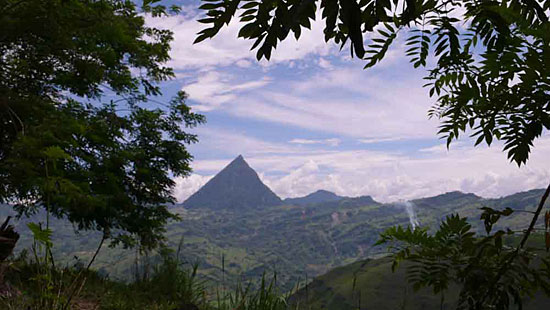 A pyramid-shaped mountain in the Town of Venecia, Antioquia Department in Colombia, captured by Lahoud.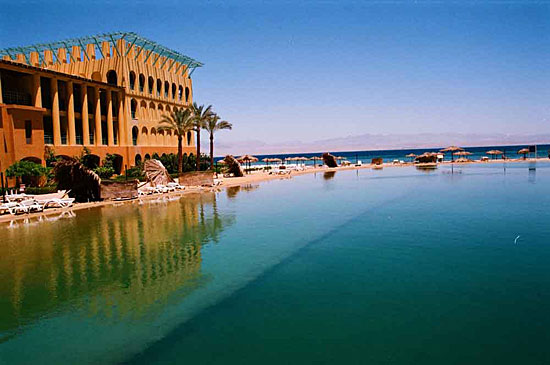 Photo taken by Lahoud at the Taba Heights, the northernmost resort of Egypt's Red Sea Riviera.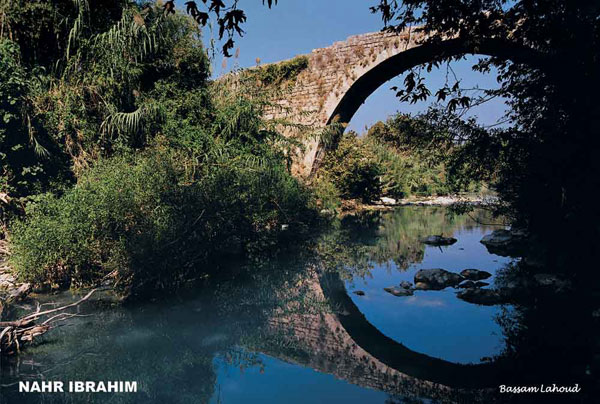 A photo of the Nahr Ibrahim River, taken by Lahoud for the municipality of the town.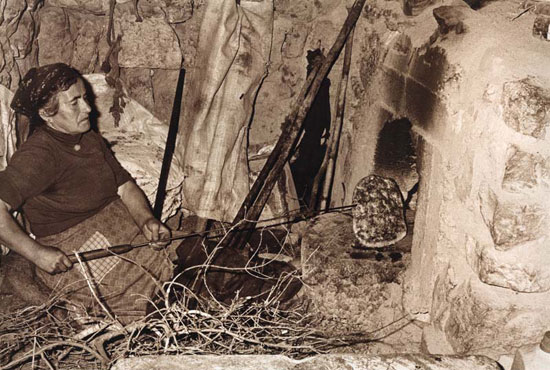 One of Lahoud's photos of old Lebanese people displayed at an exhibition called "A Trip to Lebanon," held in many European and Arab countries as part of Lebanese cultural activities.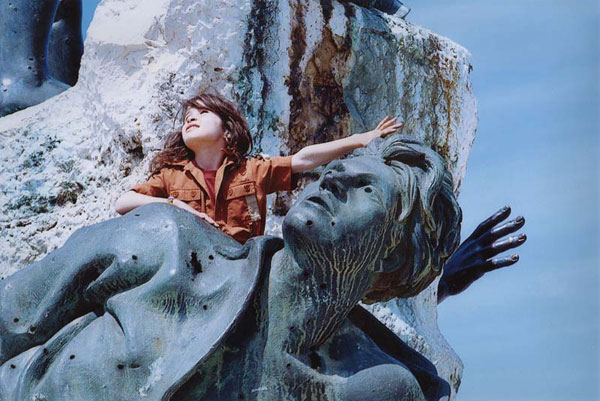 One of Lahoud's photos of Lebanese children displayed at the "A Trip to Lebanon" exhibition.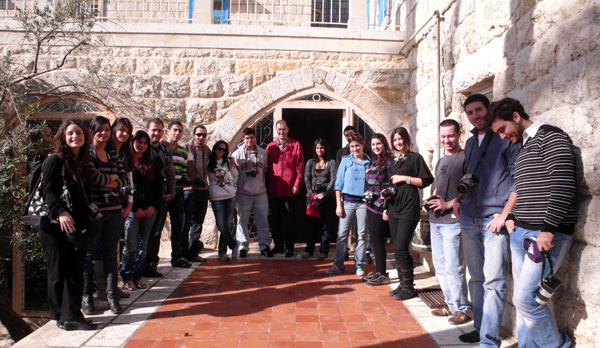 Lahoud with his Byblos and Beirut photography students during a workshop in Amsheet in 2008.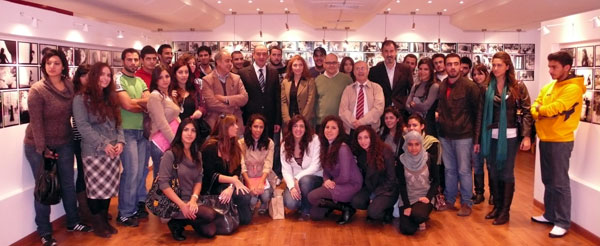 Lahoud with LAU students, officials and faculty members at the opening of the second annual student photography exhibit in Byblos, November 2008.
Click on any photo above to view all 11 images.
In December 2008, the King of Spain awarded LAU photography instructor Bassam Lahoud with the "Order of Civil Merit-Grade of Commander" medal for his cultural activities in the country and for creating a link between Spain and Lebanon.
"I was expecting this from the Lebanese government, not the Spanish government," says Lahoud who joined LAU in 1987, noting that recognition for his achievements have always come from outside Lebanon. "Even having a president from the Lahoud family didn't change anything," he jokes.
"I am a renaissance man," declares Lahoud boldly.
Of the three LAU faculty members that teach photography, Lahoud is the only full-timer, and flits back and forth between the Beirut and Byblos campuses to tend to any one of the four Photography I classes he teaches each fall semester.
"This is probably the only elective course in the university that everybody would use, because everyone needs to take a picture at one time," he says.
In the field
During the 2009 Francophone Games in September and October, Lahoud was invited by organizers to collaborate in the games' photography contest by working with participants through workshops and talks.
He is also frequently invited to tour cities around the world on behalf of governments and industries to promote tourism through his photography and articles published in travel journals and magazines. Some recent trips include Taba Heights in Egypt, Colombia, Cuba, San Francisco, Cyprus and Argentina.
Aside from publishing work on tourism, Lahoud has also covered some significant events through his photography. He was arrested in East Germany in 1984 for photographing the Berlin Wall, and kidnapped on several occasions during the Lebanese Civil War, including in 1990 after witnessing the slaughter of a Lebanese soldier by a militia member.
His photographs have been displayed in exhibitions around the world including New York, Paris, Berlin, Prague, Dubai and Bulgaria. He is preparing for at least two new ones in Lebanon this year.
A journalist, trained architect, photographer and active community member, Lahoud insists that organization is the key to his success as he manages to juggle his personal passions without losing sight of the responsibility most important to him — serving his students.
A guiding light
In 2008, convinced of the need to promote his students' work, Lahoud took it upon himself to organize and launch an annual photo exhibition on both campuses featuring hundreds of shots taken by his Photography I students.
"It's my job to really give students the best education in photography," he says. "Students are very intensive — they are passionate — so sometimes they give you better work than professionals."
Some of his former students, Lahoud explains, went on to lead successful careers in photography such as Hadi Halabi and Hayat Karanouh, two award-winning photographers.
Lahoud dedicates a great deal of time and effort working with photographers outside the university too.
In 1998, he founded the Lebanese House of Photography, which archives Lebanese photographs from the 19th and early 20th centuries, and helps young talents organize exhibitions, seminars and other events to showcase their skills.
The center, located in the basement of Lahoud's home in Amsheet, is planning a photography festival in the city of Amsheet, north of Byblos, this year after it was selected by the European Commission in December 2009 along with five other Mediterranean cities as a prime location to undertake artistic and cultural projects.
Aiming for a minor
Several years ago, Lahoud spearheaded an effort to expand LAU's photography program by establishing a photography minor consisting of the four current courses plus an additional two courses — Digital Photography and Fine Art Photography, the latter of which is a senior-study course enabling students to create a masterpiece using the layer of their choice.
Lahoud organized a committee to discuss the plan before drafting and submitting a proposal to administration. After a long period of waiting, Lahoud says he finally sees the light at the end of the tunnel, and is optimistic that the newly established School of Architecture and Design will agree to accommodate the minor.
"Many students want this minor," he says. "Everybody keeps asking me, 'when is it going to be ready? Before I graduate?'"
If approved, Lahoud expects the minor to be available on both campuses.
Photography courses are currently required for several majors including interior design, graphic design, architecture, and interior architecture. "Every major needs photography," says Lahoud.