LAU professor helps preserve ancient churches in Lebanon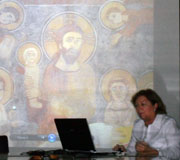 Dr. Ray Jabre Mouawad, assistant professor of history at LAU, explains the symbolism behind restored frescoes in Lebanese medieval churches, during a presentation at LAU Beirut on March 15.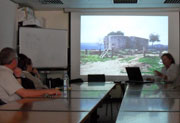 Mouawad uses photos to demonstrate different art and architecture styles used in medieval churches in Lebanon.
March 29, 2010—
Parts of Lebanon's rich history run the risk of being lost if not for the efforts of those like Dr. Ray Jabre Mouawad, assistant professor of history at LAU, who works on the study and restoration of medieval frescoes in Lebanese churches.
During a brown bag lecture on March 15, at LAU Beirut, Mouawad showed the audience before-and-after photos of medieval church frescoes that have been restored by the Association pour la Restauration et l'Etude des Fresques Médiévales du Liban she heads. AREFML is an organization Mouawad started in 2005 with colleagues from other Lebanese universities.
Since 2007, AREFML has brought professional teams from Italy and Poland for six-week sessions to restore three churches out of a total of 20 in northern Lebanon (Byblos, Batroun, Koura and Qadisha Valley). The latest restoration in the church of Sayyidat al-Khrab in Kfar Helda (Douma) started last summer by a team from the University of Warsow in Poland and will continue this September.
These projects aim to restore the medieval churches in the hope that they will become tourist sites, as well as encourage Lebanon to develop its own team of restorers.
Many of the churches are from the time of the Crusades (12th and 13th centuries), while others are older, but were painted during that time. Although the crusaders ruled the whole country, "their traces mostly remained in the areas north of Beirut," says Mouawad.
At the lecture, Mouawad also talked about the discoveries about styles of art and architecture that were made during the restoration of each church. "We are now able to distinguish styles of painting (Byzantine or local)," she explains. She says the frescoes are also revealing "a mixture of Lebanese and oriental saints with European saints." For example, the Embriashi family from Genoa, Italy, that ruled Byblos had images of Genoa's patron saint, Saint Laurence, painted in local churches.
Mouawad says, "The important thing is not only to restore [a fresco], but to restore properly — in the way it was at the time it was built. If you restore it badly, it doesn't have its value anymore."
Old mosques and madrasas in Tripoli also need restoration, says Mouawad, adding "We have not only in terms of churches and frescoes but in general in Lebanon an architectural patrimony that should really be taken care of."
Mouawad's interest in the subject was sparked by her Ph.D. studies on Syriac history under Dominican Father Jean Maurice Fiey at the Université Saint-Joseph, in Lebanon.
In addition to her work with the frescoes, Mouawad has done research on other topics related to Christian and Muslim minorities in the Middle East in Medieval and Ottoman times.
If you are interested in funding upcoming frescoes' restoration projects, please email Dr. Mouawad.