LAU Provost receives prestigious international recognition
LAU Provost Dr. George K. Najjar receives the John J. Fernandes Strategic Leadership Award for "exceptional leadership qualities and excellence."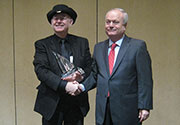 Dr. Jim Carland presenting Dr. Najjar with the award.
Click on photo above for larger version.
 LAU Provost Dr. George K. Najjar received the John J. Fernandes Strategic Leadership Award presented by the Academy of Strategic and Entrepreneurial Leadership on October 11 in Las Vegas.
The event took place during the annual international conference of the Allied Academies, a federation of 14 affiliated academies, each of which publishes academic journals for researchers in various fields of business. The Allied Academies have become a major player in the higher education scene in the U.S. and increasingly on a more global level.
"The importance of such an award lies in the fact that it is a recognition of a specific endeavor, 'strategic leadership.' It is a driver for change and innovation in the higher education sector," says Najjar. "And for this award to go to an executive officer of LAU, it reflects the global positioning of the university and the esteem in which it is held," he adds, pointing out that the achievement coincides with the implementation of the university's academic focused strategic plan, an ethos LAU is committed to.
"On a personal level it is gratifying that one's efforts are being recognized. It is an impetus to strive to continue the momentum," he says.
Prior to joining LAU in October 2012, Najjar was the founding dean of the Olayan School of Business at the American University of Beirut. He is the only dean from the Middle East to have served on the Association to Advance Collegiate Schools of Business (AACSB) PreAccreditation Committee, which he served on for over two years.
"I am honored that Dr. Najjar is the first recipient of this award—his proven leadership abilities and strategic vision have been invaluable to the AACSB PreAccreditation Committee and Board of Directors," says John J. Fernandes, president and chief executive officer of AACSB International.

In an October 12 announcement, AACSB lauded Dr. Najjar's "exceptional leadership qualities and excellence in many areas including: academic planning, research management, fund-raising, innovation and institution-building, institutional and professional accreditation, and regional and international networking."
Echoing that sentiment, Dr. Jim Carland, executive director of the Academy of Strategic and Entrepreneurial Leadership said, "We are pleased to work with AACSB and John Fernandes, to present this award to Dr. Najjar, who is an exceptional leader and extremely meritorious. We look forward to his continued leadership in management education and to our ability to recognize future leaders of his caliber."
The Academy of Strategic and Entrepreneurial Leadership primary mission is to recognize high quality baccalaureate, masters and doctoral degree programs in leadership or in entrepreneurship through a formal process of accreditation. It also provides recognition opportunities for faculty members in leadership and entrepreneurship programs and has created, in Spring 2012, an award in honor of Fernandes who "has driven an unprecedented growth in quality, accountability, and continuous improvement in universities around the world," according to the Academy's website.
"The fact that the award is named after John Fernandes is a strong source of pride," says Najjar. "Fernandes has opened up new frontiers in global business education through effective networking, exchange of experience, emphasis on quality, and a concerted effort to planning a future where business education will not lag behind, and will stay ahead in a rapidly changing world."
Fernandes has accepted LAU's invitation and will be in Lebanon between December 4 - 8 to interact with the faculty and staff and share his experience with the university community.