LAU School of Pharmacy signs partnership agreement with The University of Toledo
Pharmacy students from both universities will soon have the opportunity to benefit from a student exchange program.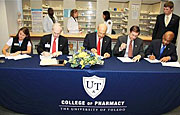 From left to right: Dr. Megan Kaun, Director of Experiential Education, Dr. Jeffrey Gold, UT Provost, Dr. Farid Sadik, Dean LAU School of Pharmacy, Dr. James Salama, Chair of the Department of Pharmaceutical Sciences, Dr. Johnnie Early, Dean, College of Pharmacy, University of Toledo.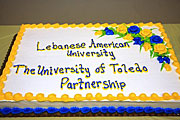 The agreement of collaboration and student exchange between the UT College of Pharmacy and the LAU School of Pharmacy was signed on September 14.
A new partnership agreement between the Lebanese American University (LAU) School of Pharmacy and the University of Toledo (UT) College of Pharmacy was signed whereby students in the Pharm.D programs at UT will have the opportunity to study abroad in Byblos- Lebanon, and students from LAU to study at UT- Ohio. Dr. Farid Sadik, Dean of the Lebanese American University School of Pharmacy visited the college to sign the agreement. During this visit, Dr. Sadik held a seminar to discuss research at LAU and to familiarize students with all LAU has to offer to UT students who wish to travel for rotations and internship experiences. In addition, Dr. Sadik interviewed several students who are interested in completing experiential rotations at LAU as early as Spring 2010.
LAU has the distinction of being the only non-U.S. college of pharmacy that is accredited by the Accreditation Council for Pharmacy Education (ACPE), and students from LAU will have the opportunity to study and complete rotations at UT. UT students were enthusiastic about meeting Dr. Sadik and learning about LAU. At the agreement signing, many members of Toledo's Lebanese community turned out to welcome Dr. Sadik and to support the college's partnership with LAU.
Dr. Johonnie Early, Dean of UT College of Pharmacy believes the partnership with LAU will benefit the college's international reputation and giving more students the exposure to international research opportunities. "I look forward to solidifying this partnership with the exchange of student learners. Studying at LAU will be a life-changing experience for our students, and working with LAU students will enhance the diversity and reach of our college". Dean Sadik is delighted that LAU Pharmacy students will have the opportunity to be exposed to pharmaceutical care in the US.