LAU students, faculty commemorate Armenian Genocide
In pictures — Students, faculty and staff take part in several events to mark the 95th anniversary of an unpunished crime.
In pictures —
The Armenian student clubs at LAU Byblos and Beirut held events on both campuses on April 21 and 23, respectively, to mark the 95th anniversary of the Armenian Genocide with music, dance and presentations.
Separately, three LAU fine arts faculty members are participating in a collective art exhibition, along with 26 other Lebanese artists, in an off-campus event, organized by an Armenian cultural organization to mark the same occasion.

Beirut-campus event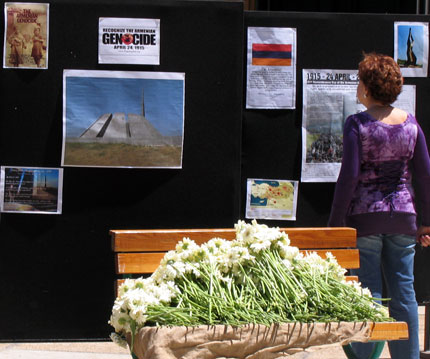 Texts, photographs and posters were displayed on the Beirut, to inform passers-by about the genocide committed by Ottoman Turkey. The Beirut event was held a day before the date Armenians throughout the world commemorate the tragic events every year.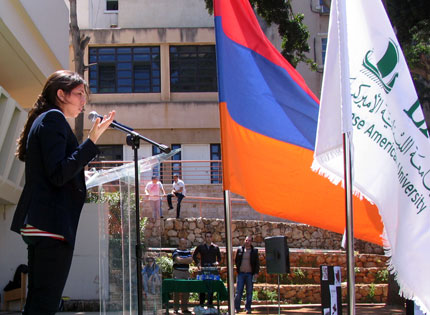 Tsolere Arslanian, a member of the Armenian Cultural Club in Beirut, opened the event with a moment of silence for the victims of the genocide.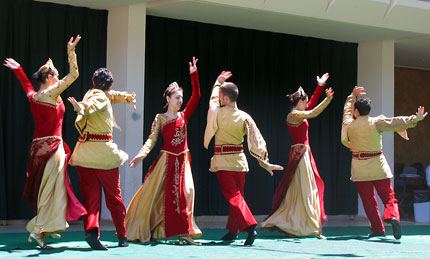 Four traditional Armenian dances were performed by the Freedom Dance Group outside the Safadi Fine Arts Building.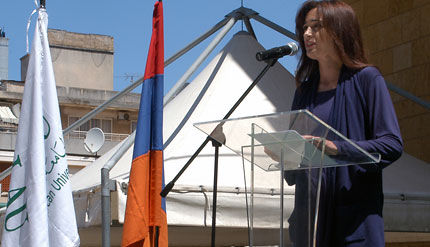 Lebanese director and actress Carmen Labaki was the main speaker at both the Beirut (here) and Byblos events. In 2006, she directed My Name is Aram, a film that revolves around the life of a 92-year-old witness to the genocide.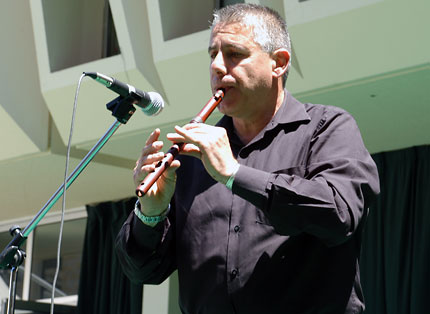 Hagop Kelougian played the duduk, a traditional Armenian flute, at both events in Beirut (here) and Byblos. Between songs, he told parts of a story of an old man who loses everything he had ever known and finds himself alone in a desert.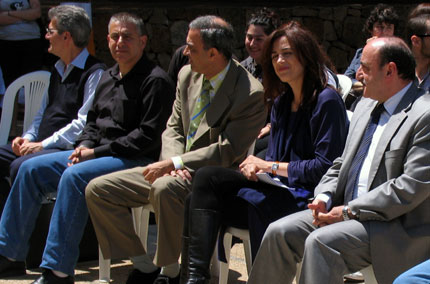 The Beirut event was attended by LAU students, faculty and staff. From left: Vatche Papazian, LAU Beirut Registrar; musician Hagop Kelougian; Sami Garabedian, Athletics Director at LAU Beirut and advisor of the Armenian Cultural Club in Beirut; guest speaker Carmen Labaki; and Dr. Tarek Na'was, Dean of Students in Beirut.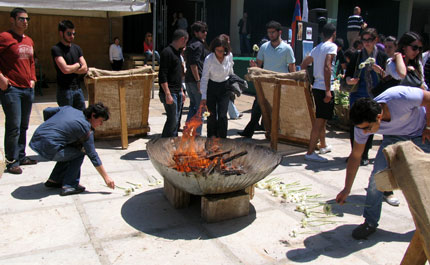 Attendees place flowers in memory of the over 1.5 million Armenians who were killed during the genocide, next to the Tzitzernakabert monument replica made by Armenian scouts. The original monument was constructed between 1966 and 1968 on a hill overlooking Yerevan, Armenia, where hundreds of thousands of mourners gather each year to commemorate the victims.

Byblos-campus event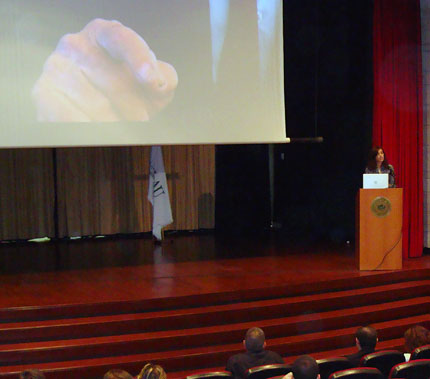 During the Byblos event, Labaki showed a clip from My Name is Aram that depicts an old man mourning over the grave of his brother who was killed during the genocide.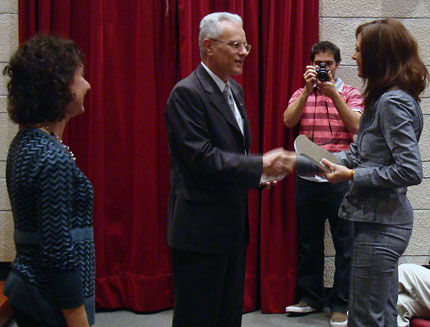 Dr. Mars Semaan, Dean of Students in Byblos, and Dr. Elise Salem, Vice President for Student Development and Enrollment Management, honor Labaki with a plaque on behalf of the Armenian Club in Byblos.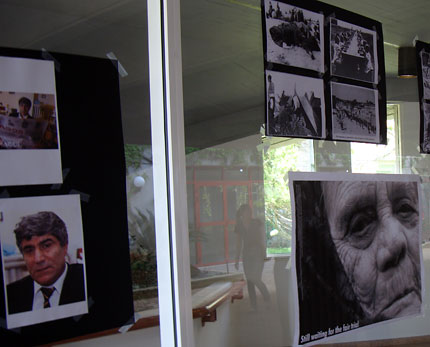 Information and photographs about the genocide were hung on columns, windows and walls down the hall toward Selina Korban Theater where the event was held.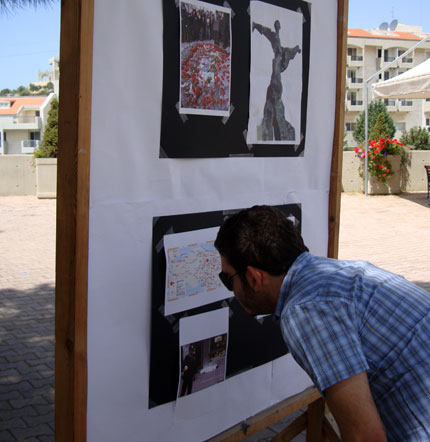 A student looks over posters about the genocide following the presentations in Byblos.

Remembering the genocide victims through art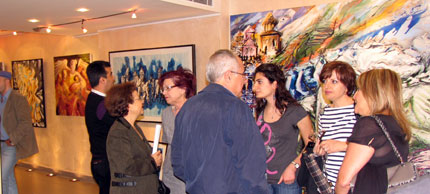 LAU fine arts faculty members Mona Jabbour, Ghassan Ghazal, and Greta Naufal (not pictured) are showcasing their paintings, together with such renowned Lebanese artists as Guvder, Maroun Hakim, Hasan Jouni, Krikor Norikian, and Haroutioun Torossian, at a collective exhibit dedicated to the genocide victims, in the Hamazkayin Lucy Tutunjian Art Gallery in Bourj Hammoud. The exhibit opened April 22, and will continue till May 3 (excluding Sundays), from 10:00 a.m.-8:00 p.m. It is being organized by the art gallery and is under the patronage of His Holiness Aram I, Catholicos of the Holy See of Cilicia.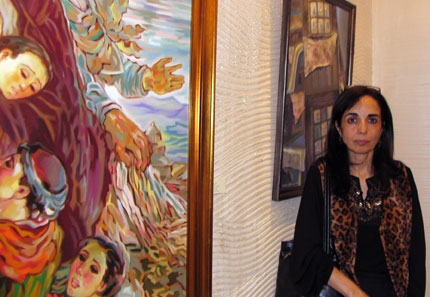 Mona Jabbour in front of her painting titled Aftermath, during the opening. Jabbour began working on this painting after the 2006 war in Lebanon. She explains, "It is a dark view of a place that has been hit by a tragedy. … Since the genocide is a human calamity and crime, therefore sad and full of death, this painting … might relate to that theme: A desolate place after some sad event."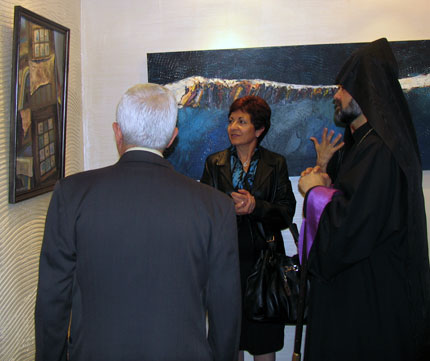 Bishop Kegham Khatcherian, the Prelate of the Armenian Diocese in Lebanon, representing Catholicos Aram I, looks at Jabbour's painting, at the opening.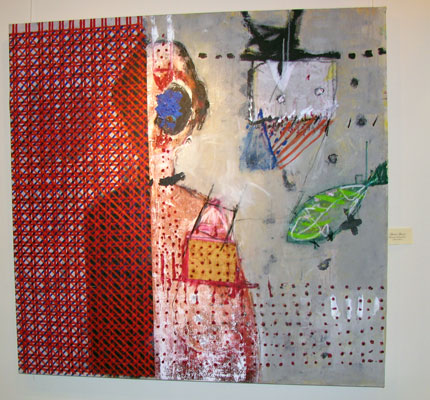 Ghassan Ghazal made this painting he is exhibiting, called Suspended Memory, specifically in memory of the Armenian Genocide. "In one sentence, my title and painting represent the memory of the Armenians' tragic destiny," he says. He explains, "On the left side of the painting, a human shadow is hidden behind bars colored with red, blue and orange. For me, the shadow represents the spirit of our memory. As for the right side, I've painted in a messy way some symbolic figures, such as a cross in mourning, a surviving fish, and ironically a little toy soldier in upside-down position, shooting bullets in all directions." Ghazal adds, "Since my Assyrian ancestors were also persecuted, most of my artwork is related to subjects such as memory and identity."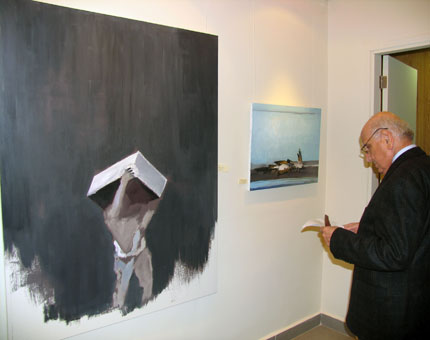 A painting (left) by Greta Naufal decorates the wall of the exhibition hall.