LAU students help inspire grassroots efforts in Oman
During an annual youth summit in Muscat, two students encourage Omani youth to become more engaged in community activities.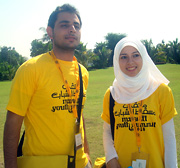 LAU students Ali Sibai and Batoul Haidar help inspire Omani youth to become more engaged in community activities, during the second Muscat Youth Summit.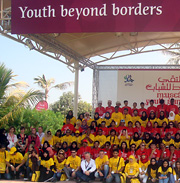 Around 180 participants and presenters attended the summit from 11 countries throughout the Middle East and Europe.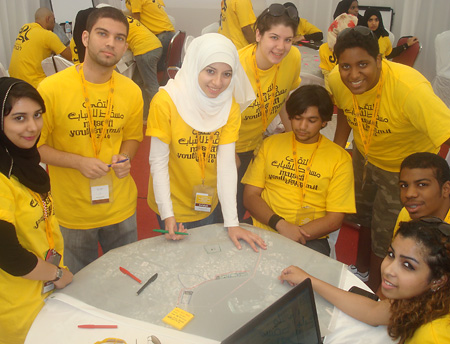 Haidar, president of the UNESCO Club at LAU, during a group activity.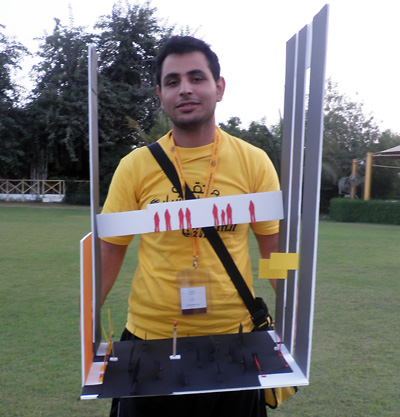 Sibai, vice president of LAU's UNESCO Club, during an exercise on urban planning.
Click on any photo above to view all four images.
LAU students Batoul Haidar and Ali Sibai are no strangers to community activism. As the president and vice president of LAU's UNESCO Club respectively, Haidar and Sibai have built impressive repertoires as young Lebanese civic leaders.
It thus came as no surprise when the two were tapped by the Lebanese National Commission for UNESCO to extend their civic efforts past the boundaries of the country, during the second Muscat Youth Summit, in Oman, in early November.
They spent three days there, along with about a dozen other activists from the Middle East and Europe (representing a range of companies, organizations and universities from 11 countries), inspiring local youth to get involved in community projects.
"The aim was to give Omani youth some ideas about improving [different] aspects of their society and encouraging them to build on them," says Sibai, who is also the LAU Model United Nations program's associate director of project management.
About 170 Omani youth participated in the summit, which targeted three main areas: entrepreneurship, urban development, and digital media.
Throughout the three-day summit, Haidar and Sibai gave lectures, participated in workshops, and challenged youth to open their minds to new ideas and alternative ways of managing things.
For example, Haidar says presenters during the day of the summit that focused on entrepreneurship offered a model of what a business providing services at weddings may look like.
"The ideas we [the presenters] came up with and shared with the Omani participants were really about awakening them to the range of possibilities that were available to them," Haidar says.
"Civic engagement has long been at the core of LAU's mission," says Dr. Raed Mohsen, Dean of Students at LAU Beirut. "Batoul and Ali are a testament of just how far our exceptional students are willing to go to make a positive impact in the world through their determined efforts in Oman."
The summit was organized by the Brand Oman Management Unit, an Omani governmental agency, and was supported by the Omani Ministry of Education, UNESCO and Omantel, among others.
In addition to Haidar and Sibai, the Lebanese delegation to Oman included Sandy Hanna, a high school student from Zahle, and Khalil Al Murr, her teacher.