LAU students present ideas for port city revival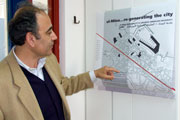 Dr. Daccache shows an overview of the project.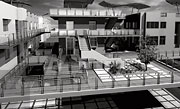 Public housing units proposal.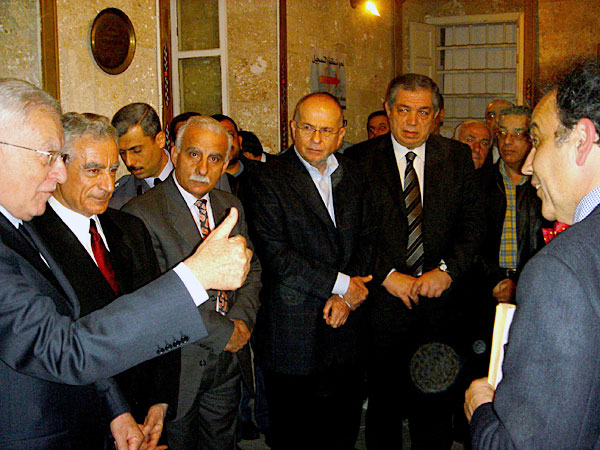 Dr. Daccache (right) is congratualed by Tripoli dignitaries including MPs Samir El Jisr and Mohamed Abdel Latif Kabbara.

Click any image to view all four pictures.
May 12, 2006—
A group of LAU architecture students unveiled a novel set of plans to residents and authorities of El Mina, North Lebanon, raising hopes of revitalizing the small coastal city's development.
The students provided workable architectural plans to boost the economic, social, educational and cultural sectors of El Mina, a site rich in elements of Lebanese and world heritage but grappling with the problems that come with fast urbanization.
It was the students' final-year project and their first real-life client, according to Architecture & Design Chairman Maroun Daccache. The plans were based on thorough research of the area's needs.
"(The students) had a strong interaction with the city's residents and were very enthusiastic about their work," Dr. Daccache said.
El Mina (Arabic for "the harbor") was designated a city in 1996. It sits on a flat headland about 3 km (1.86 m) from Tripoli, Lebanon's second-largest city. El Mina is a bustling industrial port and fish market, surrounded by a growing body of residential buildings.
During the exhibition at the local Art House in April, the students discussed their proposals with visitors.
The designs included plans for a harbor station (Abbas Safieddine), fish market (Darine Jabbour), fishermen city (John Moawwad), public housing units (Maxime Hourani and Assil Hounein), youth hostel (Mohammed El Rabaa), technical school (Maher Abdel Rahim), museum (Rana Abdullah), public library (Chantal Hayek), industrial city (Abdullah Kabbara) and cemeteries (Said Abdel Baki).
LAU's Department of Architecture and Design, based in Byblos, had previously worked on similar projects with the municipalities of Jounieh, Byblos and Batroun. "We provide municipalities with projects ready to execute whenever funding is available," Dr. Daccache said. The next project will be designed by six graduating students for the Jounieh Municipality.
A gathering of Tripoli MPs, municipal and syndicate officials, and dignitaries attended the opening of the exhibition.
LAU President Joseph G. Jabbra told visitors: "We firmly believe that knowledge should, through applied research, be used to help society protect its heritage, improve its environment, strengthen its standards of living, and cure its ills."
El Mina's mayor, Abdel Qader Alam Eddine, said the municipal council was keen on ensuring creative exchange and interaction for the sake of reviving the city, hoping that "the students' plans will be translated into projects to be executed with the help of the university's expertise, investors' funds, support of the municipal council and the efforts of El Mina residents."
Abdel Menem Alam Eddine, the head of the Engineers' Syndicate in North Lebanon, said, "The work of LAU architecture students should be an example for students to follow in other universities." He added Lebanese cities located far from Beirut were particularly in need of such studies.
Speaking at the opening, Dr. Daccache said the projects attempted to find modern and local solutions to urban planning issues and the loss of urban identity. Daccache outlined the need for cooperation between academic institutions and municipalities for the development of urban research and Lebanese cities.