LAU students raise over $40,000 to make sick children's wishes come true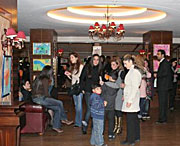 Guests admire the showcased drawings at the reception on January 22, 2008.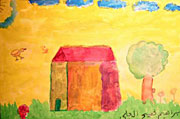 The bright colors of a sick child's painting, displayed at the reception, are a sign of hope and life.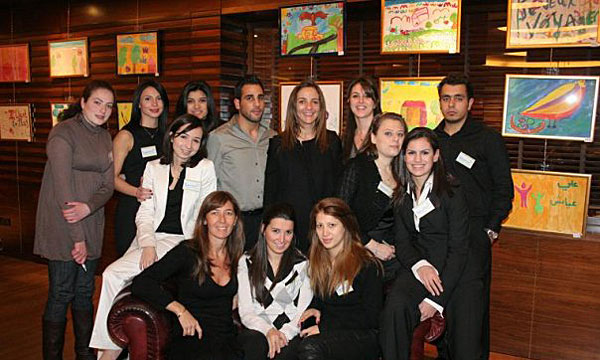 The success of the event brings smiles of satisfaction.
Click on any photo above to view all three images
March 10, 2008—
By raising over $40,000 for the children's association Tamanna, ten students showed that attending LAU is not only about getting an education but also about outreach and contributing to society. The fundraising took place in January during a reception at the Coral Beach Hotel and Resort.
The students in Dr. Ramez Maluf's Introduction to Public Relations class asked seriously ill children to produce drawings with materials purchased by sponsors. The 100 framed drawings were then put up for sale and 80 of them were sold during the four-hour reception. Some guests simply donated money, while others bought the paintings, with all profits going to the organization.
Tamanna is a non-profit association that fulfills the wishes of children with critical illnesses. It grants about three wishes per week, such as getting new computers, meeting celebrities, or traveling to Euro Disney. The funds raised by the LAU students will make 50 wishes come true.
"I was really impressed with what they did for Tamanna in such a short time. The result was much more than anyone expected," admitted Ms. Diala Rayess, Tamanna's president.
Nour Fawaz, the students' group leader, came up with the idea after having attended a Tamanna fund-raising dinner. After communicating the idea to the association, the students contacted several children's cancer centers and spent a few hours every day for two weeks helping the children paint. They asked sponsors such as Farico for supplies, Middle East and Africa Bank for $10,000, and Coral Beach Hotel and Resort for a venue in which to host the event. Taking care of the numerous organizational details, sales strategies, invitations and media coverage took a lot of hard work.
For the students, however, the end result was gratifying. "Making sick children's wishes come true is an extraordinary feeling; being able to turn their tears into laughter was worth the long hours of work," said Fawaz.
This event was part of a class assignment that involved the organization of successful events by developing, managing, and getting publicity for them. The ideas of the events were products of the students' creativity. Maluf guided the students but gave them leeway—a precondition for success, according to him—in implementing their plans.
The other student groups also did a commendable job. Their events included a ceremony, distributing awards to famous Lebanese actors and musicians based on 1,500 questionnaires; a sponsored camp-out in Ramlieh, Chouf, where 250 trees were reforested after a fire devastated the area; and a talent show.