LAU students reflect on election monitoring experiences
During the June 7 parliamentary elections, 25 LAU students volunteered as monitors at polling stations around Lebanon, reporting violations.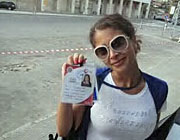 LAU student Tracy Sahyoun monitored elections in Zahle, Bekaa Valley.

LAU students Haramoun Hamieh (left) and Norair Boutchakjian were based in Zahle.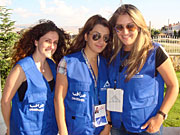 LAU students Davigh Karamanoukian, Amani Abdel Ghani and Zarmig Tchekijian monitored different areas in the Zahle district.
As the buzz around the Lebanese parliamentary elections is slowly fading, the LAU students who helped monitor them have had a chance to reflect on what they learned.

For the first time this year LAU collaborated with the Lebanese Association for Democratic Elections to involve students in monitoring the June 7 elections at polling stations around Lebanon, reporting violations.

"Students make up part of Lebanon's civil society and they should learn about the reality of voting early," explains Dr. Imad Salamey, assistant professor of political science at LAU.

It was Salamey's idea to get the university involved, and 25 LAU students volunteered.

Salamey is always looking for ways to teach his subject beyond textbooks. "This exercise forced them [the students] to leave academic idealism at the door and engage in real life politics. You can't teach that [in classrooms]," he says.

"Unfortunately Lebanon is not that ideal and they had to learn to deal with violations and corruptions, which is invaluable experience. It took a lot of effort but the rewards were excessive," Salamey adds.

One election monitor, Kareem Khalil, 20, a student of Salamey's, says his professor helps students get practical experience. "He makes sure you are learning the theory but also that you are learning outside the classroom. In this case, it was real hands-on, applied politics not just memorizing books."

Khalil, an Egyptian citizen, could not vote in Lebanon but wanted to get involved in the elections he had studied so much about.

He was stationed in Beirut III district and had to deal with several emergency violations of the electoral code. "It was total chaos and there was no respect for the rules," he says.

Khalil remembers one particular incident when he intervened. "The elevator at one station wasn't working and it was difficult for older voters to get up the four flights of stairs, so I had to send an emergency text message to my colleague."

Amani Abdel Ghani, also a political science student, says election monitoring was challenging after having studied mainly political theory for four years, but also hugely rewarding. Abdel Ghani emphasizes that witnessing the elections is much more powerful than reading about it in a newspaper.

She voted in this year's election, but said this did not compromise her ability to take a more neutral stance in her monitoring role. "I found myself very good at taking an objective position and I am proud of myself for that. Yes, I voted but when it came to my duty on the day I was without [a political] affiliation and that is the essence of being an election monitor."

Talal Al Samarrai, 24, a political science undergraduate from Kuwait, served as a data manager on the day of the elections. Working from the office, he received texts reporting any violations from other LAU students and offered his advice, acting as the backbone of the team. "I provided them with necessary guidance and talked them through the electoral guide we were given."

Al Samarrai believes his work with LADE has much wider political implications. "Election monitors ensure there is accountability in the government as there is more openness and transparency around the elections. This sort of thing keeps people from developing voter apathy and persuades them that they do have a say in improving what they see as flawed in the electoral process."

Despite not being a Lebanese citizen, Al Samarrai felt a sense of responsibility to experience a fair and just election process. "I didn't see it as an opportunity but as a privilege and a duty," he says.

Read a story on how students prepared for election monitoring.