LAU welcomes Dr. Charles Elachi as new Board of Trustees chairman
Elachi, who is replacing Dr. George Faris, is well known for his distinguished career and leadership skills as director of NASA's Jet Propulsion Laboratory.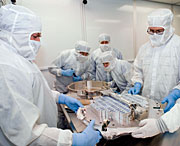 Elachi (2nd from left) and JPL team inspecting a canister and sample collector.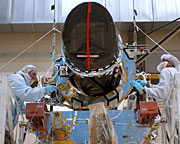 JPL team members installing a camera on NASA's Mars Reconnaissance Orbiter.

Second and third photos from top: NASA/JPL-Caltech.
LAU is preparing to welcome esteemed space scientist and administrator Dr. Charles Elachi as the new chairman of its Board of Trustees starting tomorrow. Elachi will replace Dr. George Faris, who has led the board since 2006.
Elachi, who has served as an LAU trustee since 2006, comes to his new position with a distinguished career and vast leadership qualifications. He is best known for directing the Jet Propulsion Laboratory, which serves as a NASA field center that has helped launch many of America's satellites and has conducted numerous space-exploration missions.
Elachi is excited to help the university with his knowledge and expertise. "LAU brings the excellence of the American educational system to nurture the tremendous talent of the young men and women in Lebanon and the Middle East, and prepare them to be the leaders of the future in a wide range of disciplines," he says.
In addition to his trailblazing work with NASA, Elachi also serves as the vice president of the California Institute of Technology and is a professor of electrical engineering and planetary science.
He is author of more than 230 publications on active microwave remote sensing and electromagnetic theory, and holds several patents in those fields.
Before going to the United States and joining JPL (in 1970), Elachi received distinction as the best science student of his class in Lebanon. He received a bachelor's degree in physics in 1968 from the University of Grenoble in France. That same year he went on to pursue an engineering degree from the National Polytechnic Institute of Grenoble.
He then earned his master's degree in 1969 and a doctorate in electrical sciences at Caltech in 1971. A tireless scholar, Elachi also received an M.B.A. in 1978 and an M.S. in geology in 1983 from the University of Southern California and UCLA, respectively.
Elachi taught physics of remote sensing to countless Caltech students in the 1980s and 1990s.
From 1982–2000, Elachi served as JPL's director for Space and Earth Science Programs, and was responsible for the development of flight missions and instruments for Earth observation, planetary exploration and astrophysics.
Established by Caltech in the 1930s, JPL created America's first satellite, Explorer 1, and sent the first robotic craft to the moon and out across the solar system. Currently, it has 20 spacecraft and nine instruments conducting active missions to explore our planet, the moon, Mars and beyond.
In recognition of Elachi's contributions to planetary exploration, in 1989, asteroid 1982 SU was renamed "4116 Elachi."
As a pioneer in his field, Elachi has received numerous national and international awards for his leadership and scientific achievements, particularly in developing spaceborne imaging radar.
He is a member of the National Academy of Engineering in the United States and the International Academy of Astronautics.