LAU welcomes new medical students
39 first-year med students attend an orientation day in Byblos.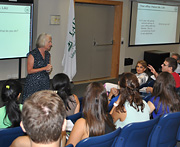 Dr. Lynn Eckhert, interim dean of LAU's School of Medicine, discusses a fictional case study with the first-year med students during orientation.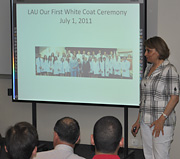 Dr. Zeinat Hijazi, LAU assistant dean for Medical Education, highlights the School of Medicine's achievements of the past year.
LAU welcomed 39 new medical students during an orientation day held on September 5 at the Frem Civic Center in Byblos, while 34 students started their third year and 35 their second year.
The gathering took place in an informal, friendly setting where faculty members introduced themselves to students and vice versa.
The event "set the spirit of the School of Medicine at LAU — we're all one family," says Dr. Zeinat Hijazi, LAU assistant dean for Medical Education.
First-year med student Serge Gabriel Geara agrees. "I like the human aspect of LAU, the kindness of the staff and faculty," he says.
The gathering shed light on the School of Medicine's innovative teaching approaches, which allow students to have early exposure to real patients in a clinical setting starting in their first year of study. More conventional programs delay the student-patient contact until the third and fourth years of study.
"This [early exposure] helps the students to better understand diseases because they get to examine their underlying causes, pathophysiology and symptoms at the same time," explains Hijazi.
In addition to early clinical exposure, simulation training is also provided to all medical students so they can better understand the anatomy and physiological functions of the human body.
LAU's School of Medicine focuses on small-group teaching and problem-based learning, where students are divided into groups for case discussions and exchange of ideas.
The new med class is "an exciting group of students who have a lot of talent. I hope they will learn quickly how to work together," says Dr. Lynn Eckhert, interim dean of LAU's School of Medicine.
At the same time, a lot of attention is given to each student individually, as they are also encouraged to think critically and come up with solutions on their own.
Continuous learning is also at the heart of medical education at LAU, according to Hijazi. "We want the young doctors who graduate to be lifelong learners," she explains. "I believe that medical education starts at the medical school, but it doesn't stop there. It's for life."
Eckhert says there will be a lot of focus on year-long community-based projects. First-year medical students will get the chance to visit a clinic in the Shatila Palestinian refugee camp, in order to increase their exposure to the impact of poor socio-economic conditions on patients and the development of their diseases.
"If you have diabetes, for example, and you're wealthy, you probably have good insurance and can afford the medication and the equipment that goes with being a diabetic patient. If you live in poverty, managing diabetes is more challenging," Eckhert explains.
In previous years, students could choose whether or not to volunteer in Shatila, but it has now become a crucial part of the curriculum that all students have to go through.
"They like the idea of giving back to the public," says Eckhert, who hopes to engage students in more community work in the future, and to secure more simulation material.