"Leader of tomorrow" emerges from LAU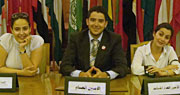 Shawky Amine Eddine flanked by two other Leaders of Tomorrow members.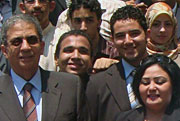 Amine Eddine next to Arab League Secretary-General Amr Moussa and other participants in The Youth Arab Lounge.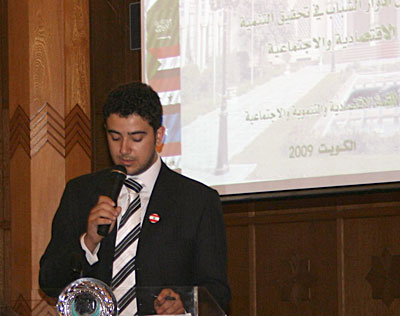 Delivering the final speech at The Youth Arab Lounge.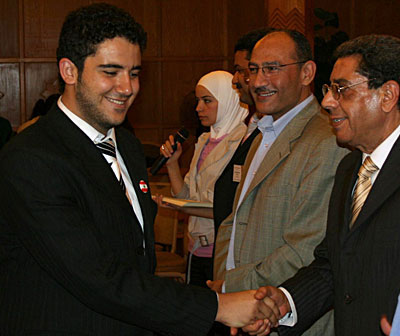 Receiving his attendance certificate at The Youth Arab Lounge.

The declaration discussion at The Youth Arab Lounge.
Click any image to view all five pictures.
September 1, 2008—
Where others see a threat to the future of Arab countries, Shawky Amine Eddine sees an opportunity. He believes the prevalent apathy and passivity among his peers can be transformed by giving youth a platform for participation, discussion, and independent thinking.
Amine Eddine, 19, is a founding member and secretary-general of Leaders of Tomorrow, an organization aiming to encourage participation of young people in decision-making processes in the Middle East and North Africa.
For his recent work, he received the "Oscar of Distinction in Youth Work" from the League of Arab States on August 18. He is the youngest and the first Lebanese to receive this award.
Amine Eddine has also assumed leadership roles in several regional youth forums.
He explained that youth make up a large percentage of the population in this region, but they are not adequately represented in policymaking. They "are pathetically and blindly led… This should change," he said.
With headquarters in Lebanon and four branches in Egypt, Jordan, Libya, and Kuwait, Leaders of Tomorrow has embarked on a two-year plan that focuses on health, education, identity, citizenship, and the creation of an Arab youth parliament, their "ultimate goal," according to Amine Eddine.
Summer has been quite a busy time for the ambitious LAU student, who has been representing Lebanon in one conference or committee after another.
During The Youth Arab Lounge and the Arab Thought Forum's Youth Conference in July, Amine Eddine had the chance to communicate his thoughts and plans to Secretary-General of the Arab League Amr Moussa and Jordan's Prince El Hassan bin Talal.
In both meetings, Amine Eddine participated in discussion groups. He was also asked to head The Youth Arab Lounge's final declaration discussion sessions despite the fact that he was the youngest of the 150 participants.
He was also chosen to take part in the Arab League's Youth Advisory Committee and selected to be Lebanon's official representative in the Arab Youth Council and The Summit of Young Arab Leaders.
All these initiatives have been preparing the ground for the 2009 Arab Summit in Kuwait, which Amine Eddine is attending as head of the Lebanese youth delegation.
"I have always dreamt about being a world leader," said Amine Eddine. "Being in such a university as LAU where the environment is perfectly conducive to achieving success and to fostering leadership abilities, I learned how to pursue a dream till it becomes a reality. I received immense support from the LAU community," he added.