Leading architect's lecture kicks off London Traveling Studio exhibit
An exhibit documenting the nine-day Traveling Studio Program in London launches at LAU Byblos after a lecture by an architect from Foster + Partners.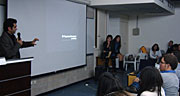 Zaher Abou Ayache, a partner with leading London-based architectural firm Foster + Partners, gives a lecture at LAU Byblos prior to the opening of the Traveling Studio exhibition.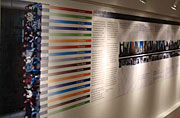 The exhibition documents each day of the nine-day London tour, displaying photos and facts of various architectural monuments the students visited in the city.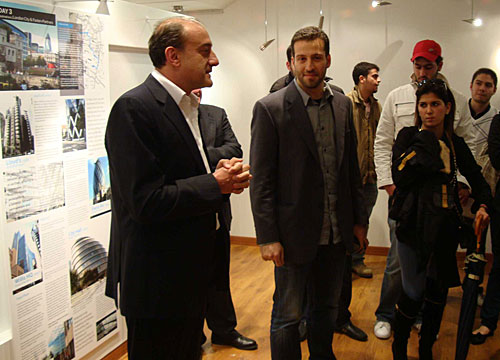 Dr. Elie Badr (left), acting dean of LAU's School of Architecture and Design, gives some opening remarks at the exhibit.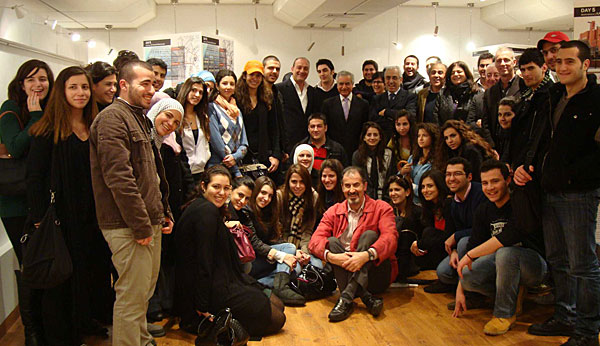 Architecture students gather for a group photo at the exhibition.
Click on any photo above to view all four images.
Zaher Abou Ayache, a partner with leading international architecture firm Foster + Partners based in London, paid a visit to his native Lebanon on December 9 to present a lecture before the opening of LAU's 2009 Traveling Studio exhibition on the Byblos campus.
Foster + Partners is the firm of renowned British architect Norman Foster. Among the firm's several current projects are The Sheikh Zayed National Museum Building in Abu Dhabi, and the Yale School of Management in New Haven, Connecticut.
During his lecture, organized by LAU's Department of Architecture and Interior Design, Abou Ayache introduced his company through a PowerPoint presentation, showing examples of their notable projects and explaining the firm's mode of operation.
"We are a pure architectural company," Abou Ayache said, explaining that the firm, which does not employ any engineers and has worked in over 250 cities across the globe, takes on wide-ranging projects including boats, offices, buildings and even wind turbines and door handles.
Foster + Partners was also in charge of designing the Beijing Airport ahead of the Beijing Olympics in 2008, a massive project that Abou Ayache said required about 20,000 workers to be on the construction site at a single time during certain periods in order to complete it on time.
The firm is behind such iconic buildings as London's iconic Swiss Re Building (aka "the Gherkin"), London's Millennium Bridge, the Millau Viaduct in the south of France (the "highest" road bridge in the world), and the redevelopment of Berlin's iconic Reichstag building.
"We create landmarks in cities and they become references," Abou Ayache said, pointing to a picture of an arch hanging over London's Wembley Stadium, one of many now-iconic London landmarks that helped his company build a reputation in the United Kingdom.
Abou Ayache was invited to give a lecture after meeting with LAU architecture students at the company's headquarters in September, during their nine-day tour of architectural sites in London as part of LAU's Traveling Studio Program.
Available to fourth-year architecture students, the Traveling Studio Program has been an annual staple of LAU's Architecture Program for the last several years. Each year, a different architecture instructor heads the program and selects a location to take students that, in the past, have visited Spain and Germany.
This year was the first time the Traveling Studio went to London, headed by architecture instructor Elie Harfouche, who required each student to research two buildings before taking off to England. After their arrival, the students visited each of the buildings they researched and presented facts they had learned.
"The benefit of that is to highlight the difference between something you read about and the actual physical experience of a space," said Harfouche. "In architectural terms, this is very important."
The exhibit documents the students' trip, which took place from September 20-28. Posters capture each of the sites visited, with detailed facts and photos about each building and landmark.
"In Lebanon, we don't have the modern type of architecture [like in Europe]," said Marylou Hamalian, one of the students who went to London. "We can see them in books, but we can't feel them — we can't experience them" without such visits.
The exhibit will remain open in the Rima Hourani Exhibition Room in Byblos until tomorrow.