Learning communication through Shakespeare
Hundreds of high school and university students participate in workshops led by actor Adam Coleman at LAU Beirut.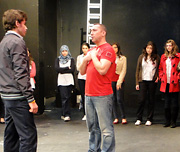 British actor Adam Coleman (wearing red) shows an exercise to high school students.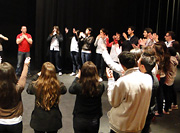 Coleman, who is a senior practitioner at Shakespeare's Globe Education, with students from Rawdah High School.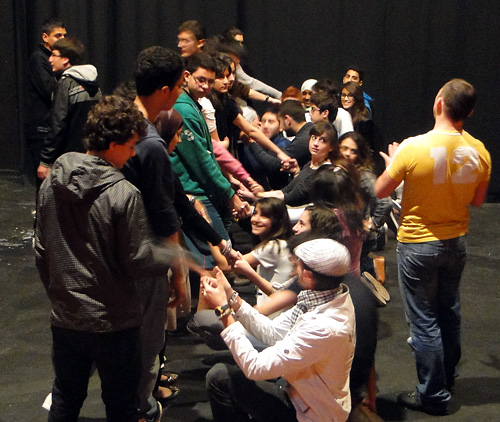 Students from Makassed Khaled Ben El-Walid School perform a scene from Romeo and Juliet.
Click on any photo above to view all three images.
British theater actor Adam Coleman was back at LAU Beirut for a fourth time last month, where he drew from Shakespeare to offer lessons in communication during a series of workshops held from February 23–26.
Around 350 students from high schools throughout Lebanon and 13 university students participated in one of the 10 sessions designed to help them become more effective communicators.
"We're not teaching them Shakespeare," says Coleman, who is a senior practitioner at Shakespeare's Globe Education. "We're trying to teach them through Shakespeare, through his brilliant conceptualization of the world."
During the 90-minute workshops, students were divided into groups, where each member was cast a role from Romeo and Juliet. Through the characters' actions and tones, Coleman showed students how to better engage with the audience and with each other.
According to him, 93 percent of communication is expressed through body language and tone, while words account for only about 7 percent. So, it's important to be mindful of your vibes and physical expressions, Coleman explained.
"Body affects tone," he told the students during one session. "When the body is tense, the voice is tense, and when the body is calm, so is the voice."
The workshops were organized by the English Speaking Union in Lebanon, in cooperation with LAU's Department of Communication Arts and the British Council.
Coleman previously led workshops at LAU in 2004, 2005 and 2010. Last year's workshops used theater to teach conflict resolution.
Coleman keeps coming back for the workshops, he says, because of overwhelmingly positive evaluations.
"My message to the students deepens each year," Coleman says, explaining that the workshops go beyond teaching communication techniques. "I'm trying to show them that they are the products of their own thoughts. You will be what you think you want to be."
The high schools that participated in the workshops were: Eastwood College, Rawdah High School, Makassed Omar Ben El-Khattab School, Makassed Khaled Ben El-Walid School, Christian Teaching Institute (CTI), Husam Eddine Hariri High School, National Evangelical School, American Community School (ACS), Lebanese Preparatory School (LPS), Lebanese International School (LIS), Al Kawthar School, Saint Mary's Orthodox College, and German School Beirut. In addition, students from LAU, the American University of Beirut, and Beirut Arab University took part.