Leaving a legacy by naming campus seats and benches
LAU's Development Office hosts a ceremony at the Beirut campus to publicly launch its Seat and Bench Naming Campaign.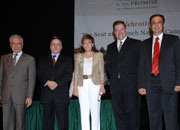 Mr. and Mrs. Mohammad and Hala Finj (2nd and 3rd from left) named a bench on the Beirut campus after their late son and LAU alumnus, Ahmad.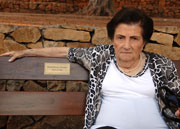 LAU alumna ('52) Amal Khoury Kanaan's son, Youssef, named a bench on the Beirut campus in honor of his mother.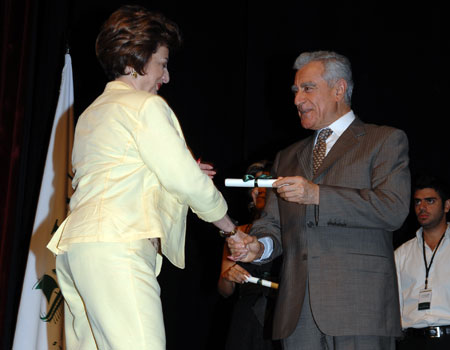 During the official launch of the LAU Seat and Bench Naming Campaign, contributors received certificates commending their donations.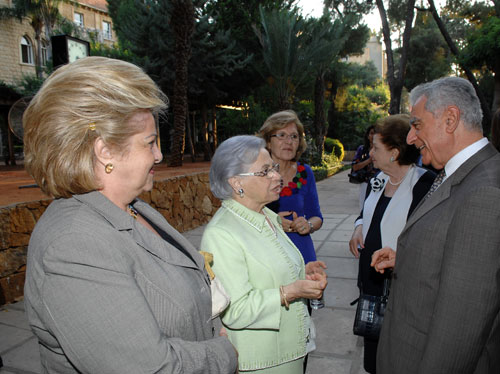 LAU President Dr. Joseph Jabbra mingles with guests during the outdoor buffet reception that followed the distribution of certificates.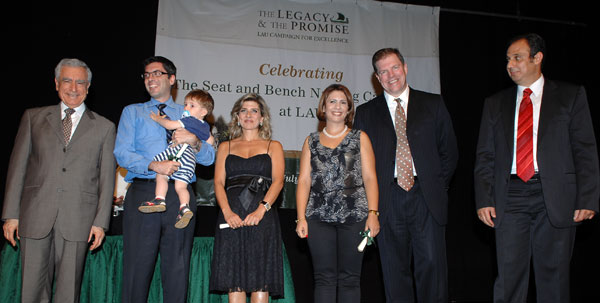 From left: LAU President Dr. Joseph Jabbra; Rami Majzoub, Associate Director of Development (with his son); Assistant Directors of Development Nicole Maamari Barghoud and Lana Abou Teen; Richard Rumsey, Vice President for University Advancement; and Samir Kadi, Assistant Vice President for Development.
Click on any photo above to view all five images.
"Take a bench or a seat, leave a legacy." Such was the message that echoed during a ceremony that marked the official launch of the LAU Seat and Bench Naming Campaign, at LAU Beirut's Irwin Hall Auditorium on July 8.
The campaign offers LAU alumni, faculty and staff the opportunity of naming a seat in Irwin Hall Auditorium in Beirut or Selina Korban Auditorium in Byblos for a donation of $500, or a bench on either campus for a donation of $5,000.
"The initiative represents an additional achievement in the university's Campaign for Excellence, an endeavor that aims to nurture our relations with our partners and support LAU in its journey toward academic excellence" says Samir Kadi, LAU assistant vice president for Development.
After Kadi's welcome address, and a short film highlighting the university's growth and achievements over the past century, LAU President Dr. Joseph Jabbra spoke passionately about the pivotal role played by the wider LAU community in sustaining the university's path to success.
"No institution of higher education can sustain itself, let alone aspire to excellence, without the support of the community," said Jabbra. Such support can only be maintained if the mission of the institution resonates with the community and wider society, he added.
The LAU Development Office silently launched the campaign at the end of 2009, when a select number of potential donors were contacted in order to gauge interest in the project. In nine months, almost 100 people chose to participate in the campaign and an amount exceeding $125,000 has been raised.
Kadi describes the response as "promising" and says it inspired the Development Office to take the campaign public.
Around 200 people — including contributors, their families, members of the President's and Retirees' Circles, alumni chapters and LAU staff — attended the launching ceremony, during which contributors were invited onto the stage individually to receive certificates commending their donations.
Stories of giving
Following the distribution of certificates, all guests were invited outside to the campus gardens to enjoy a buffet reception.
The warm summer evening provided the ideal backdrop for the alumni who contributed to the Seat and Bench Naming Campaign to socialize, reminisce, and share the stories behind their donations.
Souad Hoss, who graduated from LAU in 1951 (then Beirut College for Women) with a degree in social work and child psychology, still remembers her years at the university with fondness. It is such affection, along with a commitment to helping future students, that encouraged her to contribute to the campaign.
"I feel that we need to invest in education — it is really a great help for all these young students," says Hoss. "I like to contribute, to keep the university alive, to keep it going."
Nicole Maamari Barghoud, assistant director of Development at LAU and a contributor to the campaign, says: "It is the duty of every person to contribute in any way he can to institutions that help the advancement of our future generations. This donation is a token of appreciation for the institution that opened its door for me to learn, develop myself and reach where I am today."
Some contributors chose to name a bench or seat in honor of their loved ones. Former student and part-time faculty member Hanan Arnous named two seats in the Irwin Hall Auditorium after her parents, Nadim and Najwa Arnous, as a means of thanking them for having financially supported her during her studies.
Another donor, Azmi Horoub, was attending the ceremony on behalf of his wife, Amal, who graduated from LAU in 1963 (then BCW) with a degree in English literature. The couple's motivation for naming a seat was moving. "Our daughter died two years ago from cancer," explains Horoub. "So we put this in her memory."
"I personally enjoyed this event as much as I enjoyed cultivating and soliciting for it," says Lana Abou Teen, LAU assistant director of Development, who also named a seat after herself in Irwin Hall Auditorium.
Abou Teen added: "People were so happy as they saw their names and those of their loved ones on the actual seats and benches after the ceremony. No matter how eager for the idea they were when they opted to participate in this campaign, their enthusiasm and excitement was way multiplied when this became tangible, when they saw the actual plaques, and took photos of them."
Please visit the Seat and Bench Naming Campaign website to learn more and to make donations.