Lebanese Thai Boxing champion comes from LAU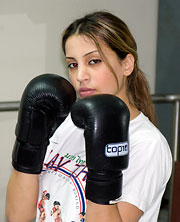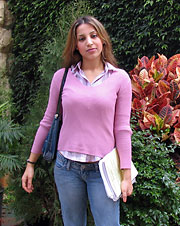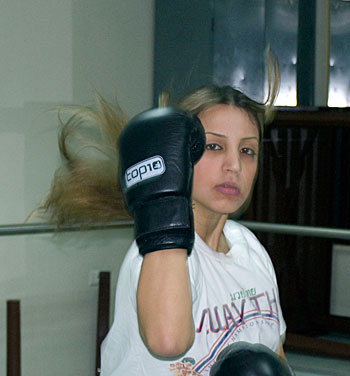 Click any image to view all three pictures.
March 22, 2006—
Looks can be deceiving—these are words to remember before ever picking a fight with Mervat Abbas, a slender, soft-spoken international business sophomore that happens to be a national Thai boxing champion.
With just one year of training, she won the gold medal for her weight category at the Lebanese Thai Boxing Championship in February 2006, defeating the previous titleholder, Nour El Gosh.
Coach Sami Kiblawi, who doubles as general secretary of the Lebanese Thai Boxing Federation, initially encouraged her to join the LAU team.
A month later, Abbas got her first medal. "I was only 18 then," she said. "The girl I beat was older and had been training for two years," she added.
She also won the 2005 Intercollegiate Challenge and received LAU's Female Sportsmanship Award.
"I want to keep on training," she said. "Thai Boxing gives you spirit and keeps you fit. It involves every part of your body, especially your hands, elbows, knees and feet. It is also good for self-defense," she said.
Abbas encourages her friends, especially girls, to practice the sport. "Girls should not be afraid of such sports," she said. "You have to have the courage and the spirit for it. Give everything you have and just fight," she said.
Brazilian-born Abbas played soccer until age 13, when she came to Lebanon. She was on the basketball team at the International School of Choueifat before joining LAU.