Lebanon needs legal reform to protect victims of human trafficking
Students, academics and civil society practitioners discuss human trafficking and prostitution in Lebanon with KAFA at latest IWSAW talk.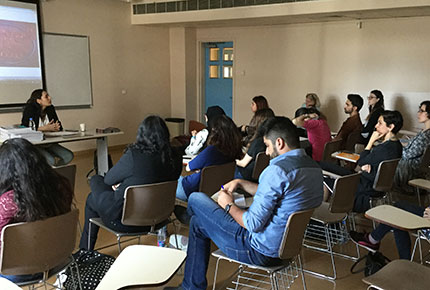 A diverse group of students, academics and civil society practitioners gathered at LAU to attend a talk about human trafficking and prostitution in Lebanon.
The talk―the latest offering from the Food 4 Thought series organized by the Institute for Women's Studies in the Arab World―was presented by head of KAFA's Trafficking and Exploitation Unit Ghada Jabbour, and drew on the recent indictment of members of a trafficking ring that had been enslaving no less than 75 women in Jounieh for many years.
The talk provoked a lively discussion among attendees and began with Jabbour highlighting the stark difference in people's perception of prostitution and trafficking. "Prostitutes are not seen as victims. Society and media coverage talk as though prostitutes gave their permission, but these women don't make a choice. They are faced with a lack of choices that force them into a decision to enter prostitution."
Jabbour went on to pinpoint the impact a prevalent misogynistic culture has on the acceptance of the abuse of women for financial gain. "A community that considers women sexual objects that exist for male satisfaction develops a culture that encourages trafficking and prostitution," said Jabbour, noting that while trafficking involves exploiting women through prostitution for profit, it is demand for paid sex that fuels the industry of sex slavery.
As part of KAFA's ongoing efforts, Jabbour interviewed 55 male sex buyers and produced a report for KAFA in 2014 that outlined their motives. Many referred to sex as their natural right, equating it to food and water.
"This is not to say that these men are bad," said Jabbour in her talk. "It is the culture. You see it in their rationalizations. They believe that by paying for a woman, it is as though they rented her for an amount of time."
Despite the efforts made by police and its human trafficking and vice team last month after four of six-dozen women held captive in a sex-house in Jounieh escaped and sounded the alarm, many criticize the complacency of the authorities who turn a blind eye to super night clubs and other venues populated by pimps and prostitutes.
Moreover, though the women from the house in Jounieh are now safe in shelters, the law in Lebanon does not automatically recognize them as victims. A decades-old law that criminalizes prostitution equates the women with pimps, and an anti-human trafficking law passed in 2011 regards them as victims only if they can prove they had been forced into prostitution.
"We are pushing the authorities to adopt the Nordic model, which considers prostitution a form of gender-based violence," said Jabbour of KAFA's ongoing campaign. "The sex industry must be banned and the notion of one gender servicing another eradicated."