For 3rd year LAU marketing student lands prestigious slot in Dubai internship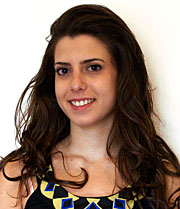 "It feels like such an honor to be chosen to represent my country [at the Dubai Summer Surprises Apprenticeship Programme]. I was shocked when I first found out, but now I'm proud of myself," says LAU marketing student Dana El Zein.
July 15, 2009—
For the third year in a row, one of LAU's marketing students has been selected to represent Lebanon at the two-week Dubai Summer Surprises Apprenticeship Programme that is under way.

This year, Dana El Zein joins eight other students from Bahrain, Egypt, Jordan, Kuwait, Oman, Qatar, Saudi Arabia, and the UAE who have earned a coveted place on the business administration and marketing apprenticeship in Dubai.

"It feels like such an honor to be chosen to represent my country. I was shocked when I first found out, but now I'm proud of myself," says El Zein.

She was selected at a competition held in Lebanon where only the top six marketing students from LAU and AUB were invited to participate by submitting their marketing proposal explaining how they would market the DSS event "in light of the current economic situation." The nine-week DSS event, which started on June 11, features various activities and promotions, in order to attract tourism to Dubai during its hot desert summer.

Applicants submitted essays to the organizing committee, and the jury, which included DSS staff and top marketing professionals from around the world, chose winners based on a number of factors including the quality of their essays and their personalities.

El Zein says her essay focused on the idea of "bringing the world to Dubai." She proposed that for each week of the DSS event, a different country from the top 10 destinations in the world be featured to give all visitors a stream of cultural experiences. "All the events, promotions, food would revolve around that country's culture to allow [locals] and tourists to get a feel of different cultures in one city," she explains.

DSS should be a concept that would equally attract locals and expats who are both spending less on luxuries such as holidays abroad during the financial crisis, said El Zein in her essay.

Organized by the Dubai Shopping Festival Office, which coordinates the hugely successful winter season namesake event, the award-winning DSS apprenticeship has been designed to provide the lucky interns with an opportunity to gain direct experience working on a major project and to develop a strong network of potential employers and contacts.

The trainees also earn a round-trip ticket to Dubai and enjoy a stay in the five-star Qamardeen Hotel during the internship.

Last year, LAU student Mazen Salameh was one of nine students from countries in the region who represented Lebanon at the apprenticeship and was invited to offer ideas on how to increase the regional and international appeal of the 2009 DSS event.